Journalistic Adventures with Magpie Advisor, Chris Pearcy
How did you become interested in journalism and why did you decide to pursue it as a career?
During my sophomore year of high school, I chose to take the Journalism class at Ben Davis High School since I thought it might be interesting. Several weeks into the class, the editors of the school newspaper came to recruit us. For my application, I wrote an article about an Indianapolis Colts versus Tennessee Titans game. I interviewed my dad for the article. They really liked it and brought me on staff as a sports writer mid-semester. I never actually completed Journalism. From there, I grew to really enjoy it as a became Sports Editor and eventually Editor-in-Chief. In my senior year, we even won the top national award, the Pacemaker. My favorite memories and a lot of who I am came from my time as a student journalist.
I even studied journalism at the University of Missouri for a bit before switching my major and eventually transferring to Indiana State University to become an English teacher. I left journalism behind for about 16 years. In Logansport, I was actually more known for my work in theatre, and few knew about my journalistic past. However, in the fall of 2021, the previous Magpie advisor left. I'd been toying around with the idea of becoming a student publications advisor off and on for many years, so I leaped at the chance to do it when the opportunity presented itself. It's been a great experience. 
Out of everything that you've written as a journalist, what's your favorite article you've written? 
The article I remember the most was the one I wrote about the death of Pope John Paul II. He was pope for almost 27 years, and the only one I had ever known at that point, so his death was a huge event. We even had his portrait in my home. I mostly wrote about sports in the newspaper, so this was outside of my norm and was the front-page article for the entire newspaper. It was cool to be writing about such a historical moment.
As a journalist, what is the biggest problem you've had to overcome? 
As a student journalist, trying to interview peers and strangers was difficult. In high school, I was very shy and an introvert. It was uncomfortable at first to try to call and interview people I barely know. Over time, I got very good at it. I always loved the writing side of it, even won some awards. Forcing my way through my initial discomfort really helped me grow out of my shell and learn how to talk to almost anyone. 
As an advisor, I sit in a very different position. Part of me still wants to hop in and start writing stories as I did in high school. I miss creating my own stories sometimes, especially when I see my students produce such great ones. Page designing was one of my favorite things to do as well. That's not my job now, and it's not my school newspaper. It belongs to the students. My job is to guide and teach them the best I can, which is a great challenge in itself. This being my second year, I'm still very much learning how to be an advisor. Some days I'm better at it than others.
Is there anyone, in the journalism field, who motivates you to continue improving yourself, career-wise? 
In high school, I had an awesome journalism advisor, Janet McKinney. She was a legend in Indiana high school journalism. When I started off advising, she was one of the first people I reached out to for advice. A lot of my views on journalism are based on what she taught me in high school. Lauren Wagner, the Zionsville High School student publications advisor, has also served as my mentor. She constantly gives me new ideas or allowed me to bounce my thoughts off her. I often reach out and have discussions with journalism advisors from all over the country.
What is your biggest achievement as a journalist? 
Winning the Pacemaker in Atlanta my senior deal was huge. Since I was the Editor-in-Chief, I got to go up to get the award in front of thousands of other student journalists. Getting a Pacemaker is really hard to do. It requires a total team effort from every member of the staff. We received it for the newspaper issues that we completed during my junior year when I was the sports editor. It was the third JEA/NSPA convention I attended. Since it was a national event, it was always fun to meet student journalists from all over the country and attend the many workshops. So, winning in front of all those people was an exciting experience.
What is your biggest achievement as a journalism advisor? 
Just helping the Magpie staff to grow the website to the successful point it is now is my biggest accomplishment. The staff and website have grown an incredible amount. In just two years, the staff has grown from five to 29 students. The staff is producing some great content and winning some well-deserved awards. I'm excited to help them take the website to new places.
What are your aspirations for Magpie and how do you plan to help achieve them as an advisor? 
I hope we will attend our first JEA/NSPA Convention in Boston next November and continue our success on the state and national levels. Ultimately, it is about where the students want to take the website. The exciting thing about a news website is that it can encompass all types of journalism. Traditionally, people think about writing when it comes to journalism, which the staff does extremely well. But, a website can also feature podcasts, broadcast elements like video, cartoons/illustrations from artists, photography and other multimedia. We are looking for people interested in doing all of that.
In class, you mentioned how you wish to make Journalism a CCC Pathway in our school. How are you going to go about achieving that?
At this point, I don't know. It is a discussion that has only just begun. Recently, Greenwood High School was able to achieve this goal and received approval from the Indiana Department of Education, so we have a framework to look at. Becoming a journalist is a legitimate career and covers a wide range of skills and abilities. It'd be a great opportunity for students to pursue as a part of their graduation process and would potentially really benefit the student publications program.
Leave a Comment
Your donation will support the student journalists of Logansport High School. Your contribution will allow us to purchase equipment and cover our annual website hosting costs.
About the Contributor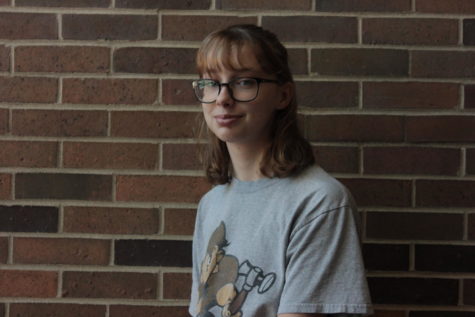 Erin Williams, Photographer
Freshman Erin Williams is a member of the Class of 2026 and serves as a photographer on the Magpie staff. She joined the staff in the 2022-2023 school...