LHS Track Season Kicks Off
The LHS track team started its season on February 14. After a long school day, students head to the track where they'll spend hours trying to perfect their events for the upcoming meets.
Head Coach Randy Kuhn returns for his 45th year of coaching the track team. This is his 27th year as head boys coach and 22nd year as the head girls coach. Kuhn has also spent many years coaching football, wrestling, soccer, and basketball.
The Berries had a very successful season last year when the boys team won the Culver Relays and the Cass County Championship. Towards the end of the season, both boys and girls teams had three individuals and a relay team advanced to regionals. Carley Camp advanced to the state meet for shot put while Noah LaOrange advanced to the state meet in the long jump. Both were graduates of the 2021 class.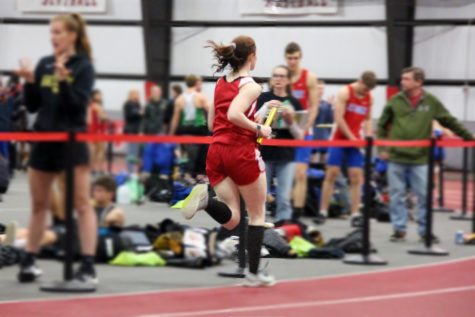 "The highlight of the season was we had a boy and a girl participate in the state finals," Randy Kuhn said.
After a strong 2021 season, Randy Kuhn has many athletes he has high expectations for this upcoming season.
"We have several athletes returning this year. Payton Herr, Chris Jean Rene, and Christian Wicker for the boys. Ambria Gittings, Kassie See, Arlene Frutos, and Finley Hettinger for the girls," Randy Kuhn said.
Starting with the 2022 season, Randy Kuhn made a new addition to his coaching staff. During the 2021 season, Chris Middleton was the distance coach for both boys and girls. After he resigned from that position at the end of the season, Randy Kuhn brought in Scott Colford as the new distance coach.
Scott Colford comes from Pioneer, where he coached and ran distance for 10 years. He has been widely known around the county for over 20 years.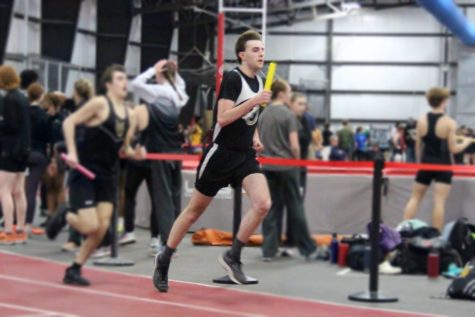 "I've been happy with the results of many of my teams and individuals," Colford said.
The distance team was very senior-heavy last season, which means many new people on the team this year.
In addition to new coaches, the team welcomes new members to the team.
"We also have a lot of new kids this year that can end up being very good at what they do. Only time will tell," Randy Kuhn said.
Freshman Aiden Snoeberger competed in track at the junior high level.
"There's a pretty big difference between junior high level and high school track. Not only is there another grade level practicing with you, but it just seems like you're in a higher league overall. It's a lot tougher," Snoeberger said.
Dena Kuhn returns for her 22nd year as the throws coach for both boys and girls.
Sophomore Erik Chin Hong will be on the throwing team this year.
"I think the team should do fairly well this year. The practices right now are difficult because we are trying to learn the harder way to throw the discus, but other than that, practices run smoothly," Chin Hong said.
Randy Kuhn also returns for his 45th year as the sprints coach.
"Each season is like starting over again every year. I do know that we will approach it like we always do. One track meet at a time. I don't care about wins or losses. That is on me, not the athletes. We will work towards what we always do, getting the kids in the right event," Randy Kuhn said.
Senior Adrian Ramirez has been competing in track and field since he was in 6th grade. This will be his first year as a part of the sprinting team. He spoke about his thoughts on the upcoming season.
"Track has always been my favorite sport because I like to race others. The practices are going great. I honestly hope the season goes well. We have some pretty good runners. I hope to win or come close to winning," Ramirez said.
Randy Kuhn will have his first chance to evaluate his track team at the Hoosier Relays hosted by Indiana Wesleyan University.
" I am limited to how many I can take and how many I can put on events. It is kind of a test for some kids and a chance to see where they are at this time of the season. I don't have all events filled because they just are not ready to go do it yet. We really don't have indoor facilities like the big schools, so I don't want to take kids to get embarrassed," Randy Kuhn said.
For anyone who wants to support the team, the LHS track team will compete at the Culver Relays on April 9, 2022.
Leave a Comment
Your donation will support the student journalists of Logansport High School. Your contribution will allow us to purchase equipment and cover our annual website hosting costs.
About the Contributors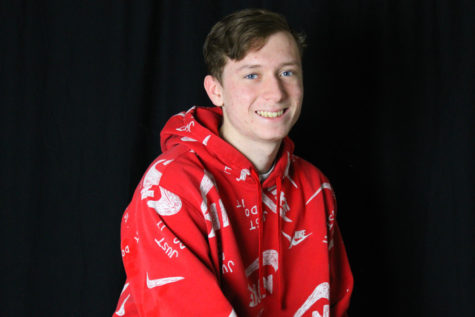 Payton Herr, Sports Section Editor
Senior Payton Herr is a reporter for Magpie and a member of the 2023 class at Logansport High School. He joined Magpie during the 2022-2023 school year....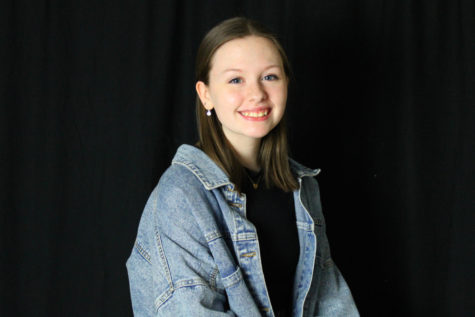 Gretchen Prifogle, Photo Editor
Junior Gretchen Prifogle is a second-year student on Magpie. She has been the Photo Editor for both years. Gretchen enjoys sharing pictures of interesting...