What is the Stock Market?
Buy low, sell high. We've all heard it before; The stock market. What is the stock market, really? How does it work and flow, and how can it help you? What can you use the market for?
"The stock market is a place where you can buy and sell parts of companies to and from other people." sophomore Max Kitchell said.
Stocks are sold and traded daily, and the price fluctuates based on what happens to them. For instance, if I were to buy a stock, the price would go up. If I were to sell it, it would go down. Other factors like bankruptcy, new ownership, a new product, and even lawsuit results can positively or negatively affect a company's stock. Due to these many factors, stocks are a very volatile investment. Essentially, this means they can change on a whim and are never predictable.
"Remember that there is risk involved and it is in your best interest to diversify your stock holdings," economic teacher Bradley Urban said. "Don't put all your eggs in one basket." 
There is more to just stocks in the stock market. You are also able to buy ETFs, or exchange-traded funds, which is essentially a smoothie of stocks. These are less risky and include indexes like MSCI, The S&P 500, and Invesco.
"ETFs follow the market as a whole, rather than a specific company," Kitchell said. "The most commonly traded ETF is the S&P 500, a collection of 500 of the biggest companies of the world."
Stocks are also a very good way for rich people to grow their wealth. But since rich people have a better network of people who understand the market, it's not as easy for high schoolers and non-experts to invest in a profit short-term.
"It might be a great opportunity to buy and invest in the long run," Urban said. "When the market is down, think of it as stock is on sale.  Always research your investment.  There is always risk involved and you want to make an informed decision with your money."
Since we're all just kids, why should we care in the first place? Media, movies, and TV shows portray the stock market as a place where rich grown-ups go to talk about boring businesses and buy intangible assets to hopefully get a return on their investment.
"The stock market is a great way for an individual to invest and grow their savings," Urban said. "Over the long term, the value of the market has increased despite its ups and downs."
The market trend shows that investing in the S&P 500 is a good way to increase wealth by the time you're at retirement age.
"Don't overthink a position, the S&P 500 beats 90% of traders," Kitchell said. "If you invested $10,000 a year into the S&P when you were 22, you'll have over $500,000 when you're 42, $1.5 million when you're 52, and $3.7 million when you're 62. I would rather have a $40,000 salary and be investing than have a $100,000 salary and not."
Leave a Comment
Your donation will support the student journalists of Logansport High School. Your contribution will allow us to purchase equipment and cover our annual website hosting costs.
About the Contributor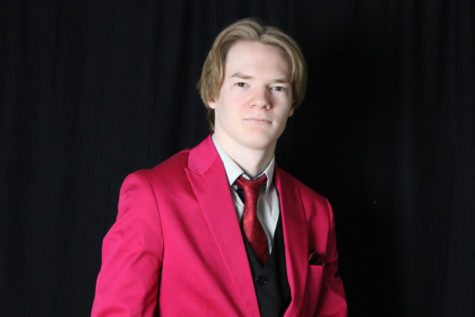 Noah Chanley, Reporter
Senior Noah Chanley is a writer and photographer for Magpie. He likes money, making money, talking about money, talking about making money, and dreams...