Pushing Beyond the Idea of College Being the Only Option
As a senior in high school, Atticus Picardo has expressed many interests and hobbies. However, none of them really stick out to him as he starts to explore career ideas.
As Picardo considers what his life will look like after graduation, he really feels that high school pushes the idea of college too much.
"I feel like they shouldn't push it so much," Picardo said. "There are so many other options than just college that they don't talk about, and when they do, it's very small and very brief."
With college being heavily pushed in high school, this can be stressful for students. 
"When I first came to the high school, I was overwhelmed by all the college talks they gave," Picardo said. "I think that's why I didn't want to go when I was a freshman. I was also never the brightest either, so I was scared that I would never be smart enough to get in. I thought only the smartest kids got in, but now I know that's wrong."
According to the U.S. Bureau of Labor Statistics, in October of 2021, just over 60% of 2021 high school graduates from the ages of 16 to 24 were enrolled in college. That leaves just about 40% of students either uncertain about their plans or furthering their careers without the use of college. 
At LHS, the goal is to have students do one of the three E's: enroll in college (or post-high school education programs), enlist in the military, or enter the workforce. 
"I am wanting to go to cosmetology school, and I have been wanting to be in that field since sixth grade," senior Joselin Mancera said. "I've known school wasn't for me for a long time. I think college is great and all, but if I could barely keep up with high school, one can only imagine college. I personally don't think it's necessary for people to go to college as long as they pursue something they love doing."
Another student not sure about going to college is junior Lana Toloza. 
"My plans are to either go to this nice culinary school, probably going to do something with soccer," Toloza said. "I've always liked cooking, and I just knew cooking was going to be my thing, so that's just something I chose to do."
Offered at LHS through the Century Career Center courses, students are given the opportunity to explore different careers that do not require a college degree. At the CCC, many teachers know from personal experiences about the stress of not knowing what to do after high school.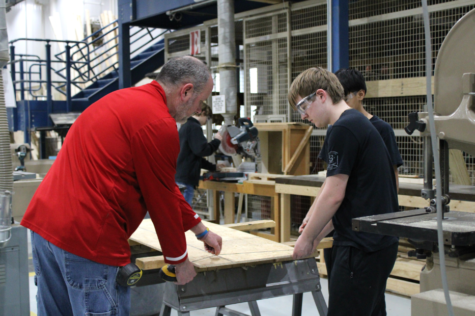 "I went to IUK for business for a year," construction teacher Jim Russell said. "I decided school wasn't for me. I was in the wrong major and taking classes I didn't like. I have always loved hands-on learning. I have never been big on book learning. I am not a big reader."
After deciding college wasn't for him, Russell decided to work in construction.
"I always liked building things when I was a kid," Russell said. "I would always help my dad with little projects around the house, and I really enjoyed my drafting class I took in high school. After I quit college, I worked a few jobs, and then, I went to work for a friend of mine's dad doing construction."
Another teacher that originally went for a different career is welding teacher Christine Linzey.
"I started off actually in high school," Linzey said. "I was in locational, that's what we called it, for nursing. I did CNA for a couple of years after school, and then, I just jumped from job to job."
One of the jobs Linzey worked at was Chrysler. While working there, she realized what she truly wanted to do. 
"I didn't get into trade school until I was hired on to Chrysler," Linzey said. "They were laying people off, but they paid for us all to go to school. So, I was going for woodworking, but it was all filled up from all the retirees also getting free schooling. They told me the only class open was welding, and on my first day there, I was hooked."
From there, she continued her education in welding.
"My teacher was so awesome," Linzey said. "He was also a worker at Chrysler, but he worked in casting. So, I didn't know him until I started taking his class. Then, he was like, 'Hey, Ivy Tech is offering me a job, and I'm going to start teaching over there. Do you want to further your welding career?' I was still working at Chrysler, but I was like sure, why not. Chryslers going to pay for it. So, from there I fell in love more with welding. I got to do it all there. I was hooked."
Eventually, Linzey began teaching welding, and from there, she started advocating trade school to her students.
"The teachers over [at the Career Center] have been out in the real world and working other jobs," Linzey said. "We don't push the idea of college at all. Go to a trade school. I bring in people from unions where they can get their Journeyman's Card. If you get that, you're automatically going to be making more than people with a master's degree. It's where you go and train for four to five years, and by the time you get your Journeyman's Card, you can go anywhere. People are even contacting you to maybe go overseas and weld and teach those people. Journeyman's Cards are gold."
Trying to get more students to know the options post-high school, Linzey invites people to talk to her students frequently. 
"I invite, send emails and call people," Linzey said. "I've met a bunch of fabulous people. It's all connected. The welding world is so small. Everybody knows everybody. I invite all the welding colleges, and they're not just welding. They do electric, plumbing, everything. I invite them just in case my kids are like 'Oh, maybe I don't want to be a welder. Maybe, I want to be an electrician.' I encourage them. Do it. Do it because there's not enough out in the world, and you're never going to want more money. You're always going to have a job."
Even though some may expect students to know what they want to do after high school, it can take years.
"I really didn't know what I wanted to do until I was in my 30s," Linzey said. "Yes, I wish I would have started years earlier. I chose the hard life, and now I'm still putting my life together. But, I feel like I'm better educated where I can better guide my students. If they would have hired me right out of high school, I would not have been a good candidate. It takes time because you're still maturing and trying to put your life together."
Leave a Comment
Your donation will support the student journalists of Logansport High School. Your contribution will allow us to purchase equipment and cover our annual website hosting costs.
About the Writer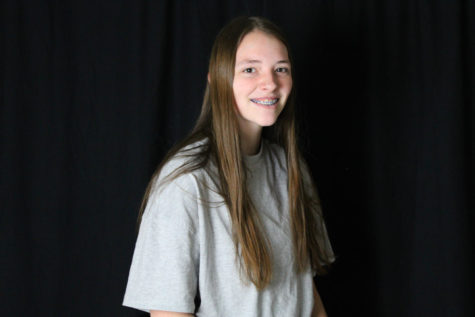 Kylee Langley, Editor-in-Chief
Kylee Langley is a junior and the Editor-in-Chief of Magpie. She has been on the staff for three years and has previously been the section editor for Arts...