Taking a Look Inside of EL Classes: Q&A with Erin Bauer
1. How is it different teaching your EL classes from your regular algebra classes?
Typically, they get slightly different assignments and I go a little slower with them. At times a lesson will take two days because they just need more time. Some of the things we cover I don't think we need to do either. I try to expose them to word problems, but we don't go crazy in-depth with them because they can't read them and it can be harder to do with them. 
2. What is the most challenging part about it? 
I think it's the language barrier most time because you want to communicate with them, but I don't know how to speak the language. You can only gesture so many times like "It's possibly this". It's also harder to get to know them because you can't have that one on one conversations like "How was your day today" You kind of lose that since you can't talk to them like that.
3. What is the most rewarding part about it? 
I think the most rewarding part is the fact that they really like me. I do take the time to do all of it with them, but they always tell me that they love me and I just smile and tell them that I love them back. They are really sweet like that. Even with that language barrier, they know that I care.
4. How have you adapted or learned to teach them considering the language barrier?
I just learn to go slower and go at their pace. I also try to help each one of them individually and we all help each other. I have an aide that floats around the room when I teach so she'll stop and ask if they need help in Spanish. The good thing about math is that you don't need to know the language because at times they'll just follow what you do and they'll follow the pattern.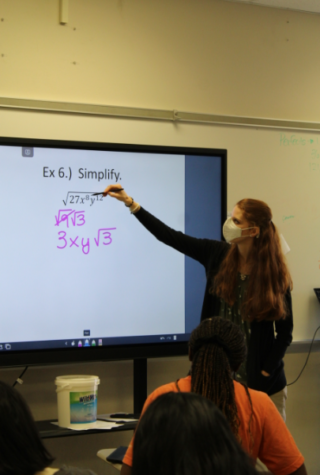 5. How were you assigned to teach these classes considering the language barrier?
We did have a teacher retire that did all of the EL classes and split them up. So she did all the EL classes and had to prep for four periods, but I got all the algebra and another teacher got geometry. This is just how they split it up. 
6. How many EL classes do you have? Does Jones assign them or do you pick them?
I would assume Mrs. Combs assigns them. I don't actually know they just tell us what we will be teaching for the next year. We do get a little say, but not much. I currently have EL algebra one and two. I did ask for the EL Algebra two because they decided to get rid of it when the EL teacher retired. I did have that class last year and now this year. I assume I will also have it next year as well.
7. What have you learned from teaching EL classes? Have you changed as a person or even learned any of the languages?
I have learned a little bit of Spanish but given into the dialect I've got nothing for you. I think I've just learned that you don't always have to get through it all. In my first year, for example, I tried to keep up with my regular algebra classes and it just didn't work out, For example, we usually don't need to do all 12 problems on their homework so we'll stop and just do 8. If I see how many problems we actually need to do then we are all good. 
8. Are you the only teacher in the math department that has EL classes? If yes, then why? Also what other EL classes are offered at the high school?
I do the EL algebra one and two and Mrs. Plutatt does geometry and we have Mrs. Haywood who is our go-between. So I will teach the kids and they will have a period where they do homework with Mrs. Haywood. In past years, I had both classes, but there were too many of them so that is where she came in. She'll do labs with them and speak Spanish and acts as a translator. She also acts as a translator in the classroom usually in Mrs. Plutatt's room for geometry. There are also EL English classes as well as science classes and history. Unfortunately, we do not offer EL classes in the career center.
9. What exactly goes on in the class? I know most people do not know what goes on inside. How do the kids learn and even get out of EL to the regular English-speaking classes?
Slightly controlled chaos. I do have an aide, but they are not with me all of the time so when I explain something the kids will help each other and translate what they understood. You kind of get used to the constant chatter. It's never quiet in here and not even during tests when I tell them to stay silent. I print out their notes and homework for them every day that way we don't have to fight with technology. Typically when they get out of the class it means that their English skills are high enough and a lot of times that comes from either Mrs. Nelson or the WIDA scores. 
Leave a Comment
Your donation will support the student journalists of Logansport High School. Your contribution will allow us to purchase equipment and cover our annual website hosting costs.
About the Contributor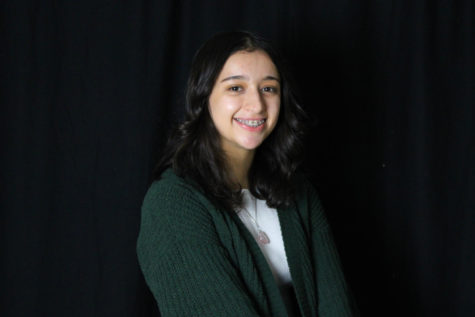 Emily Sanchez, Managing Editor
Emily Sanchez is a junior and has been a part of the staff since her freshmen year in 2020. Emily currently serves as co-Managing Editor. She enjoys writing...