A Flutists' Experience
Flute players are an integral part of any musical ensemble, adding a delightful melody and soothing aesthetic to the overall performance. Meet two flutists that are in our very own LHS flute section.
Olivia Ramirez
At first, Olivia Ramirez didn't want to join band and play an instrument. But in the end, she decided to give it a shot since she figured that if she didn't like it she could always drop the class. Though upon trying out the instrument she discovered her newfound passion for creating music.
"I soon fell in love with the idea of me being able to create music, so I stayed in the band as a freshman," Ramirez said.
Ramirez is currently in band playing the flute and piccolo. They've been learning/playing their instruments since the sixth grade. It didn't take much effort for her to choose her desired instrument.
"I think I probably chose the flute in the first place because I loved the high pitch sound and honestly I didn't like the idea of a reed or spit valves." 
And of course, as with all things, it took Ramirez a lot of time and effort to successfully learn how to play her instruments.
"Learning an instrument is difficult no matter what anyone says," Ramirez said. "I feel like you have an idea set in your mind on how to hold it and play it. But it's nothing like that one you actually get hands-on with the instrument. First, you have to learn how to even put your instrument together. Then learning how to hold it, which may sound simple but it isn't. The first week of learning to play was difficult, it could cause headaches and make you lightheaded for a short period of time because you aren't used to using all the air."
With all this work, time, and effort it's understandable for one to want to give up at times. When it comes to playing an instrument, hard work is a must.
"I would say there were times when I questioned giving up. It's a very bad difficult thing being in a band. You become very aggravated with the music, the people, and the teachers. But in the end, everyone has your best interest and I try to keep that in mind when I have bad days."
All in all, through the good and the bad, Ramirez pushed through and continued playing her music.
"It can be grueling and aggravating but in the end, it's always worth it."
Dragon DeInnocentes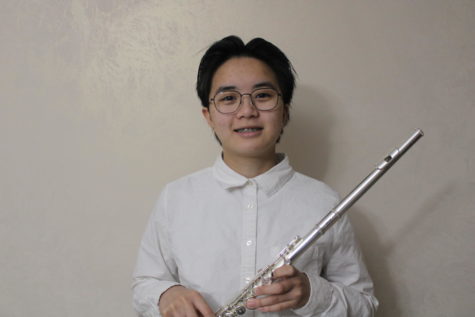 When Dragon DeInnocentes's family introduced him to the flute, he was reluctant to play/learn it. He wanted to play oboe but his family already had several flutes in the family. As his family continued to have him play the flute, he soon grew to realize he loved it.
DeInnocentes's family has a history with music, his mom played the guitar and his sister also played several instruments. Before he even began playing the flute he had already had previous experience playing instruments. The first instrument he ever learned was the piano in elementary school so learning a new instrument was a breeze.
"I don't think it was difficult at all to start learning the flute, it just came naturally to me," DeInnocentes said.
Even though DeInnocentes didn't have much difficulty learning the flute, others might.
"Flute apparently is a harder instrument to learn but I would still recommend it because of the easy maintenance and the cost efficiency," DeInnocentes said. "The steps of learning a wind instrument start with the embouchure, hand placement, and breath control."
DeInnocentes didn't stop at piano and flute. He has played several instruments and has even won numerous awards for playing them (most awards come from his expertise with the flute). Some of the awards they've won include Issma state gold, music festival champion, regional junior high school honor band, and piccolo and duet music festival champion.
"I play or used to play hulusi, erhu, alto saxophone, acoustic, electric, and classical guitar, piano, flute, and piccolo," DeInnocentes said. "Out of these, my favorite has to be a flute, as it's my best-performing instrument."
DeInnocentes used to struggle when he first began performing with his instruments. But with time and practice, he learned to overcome his struggles.
"I used to have acute performance anxiety but I learned to work through it after my many performances," DeInnocentes said. "I always make myself remember that every judge is different and you will never perform the exact same way twice. If my anxiety gets really bad though, which it can, I just try to focus on the music and remind myself of the parts where I needed to practice before."
Practice makes perfect is a phrase that DeInnocentes seems to have taken to heart.
"Through practice, things did get easier and I can continue to gain new skills with my instrument," DeInnocentes said.
All in all, DeInnocentes's experience with music and the flute is a unique experience like no other.
"My advice for aspiring musicians would be to never lose your passion for music," DeInnocentes said. "No matter difficult the instrument may be, you can always put the instrument down and try again. But for music, you'll hear it all around you always, and if you learn to hate the music it can make you miserable."
View Comments (1)
Your donation will support the student journalists of Logansport High School. Your contribution will allow us to purchase equipment and cover our annual website hosting costs.
About the Contributor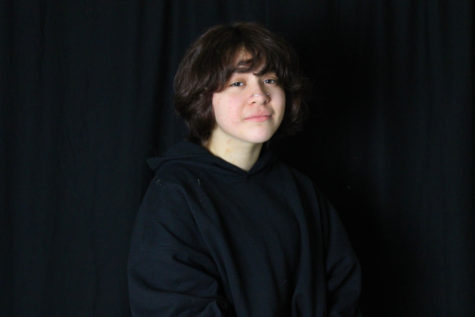 Dominique Zamora-Arias, Photographer
It's freshman Dominique Zamora-Arias's first year on Magpie. They like to write sometimes. Dominique likes to listen to music and hang out with friends....