Taylor's Room: Taylor's Version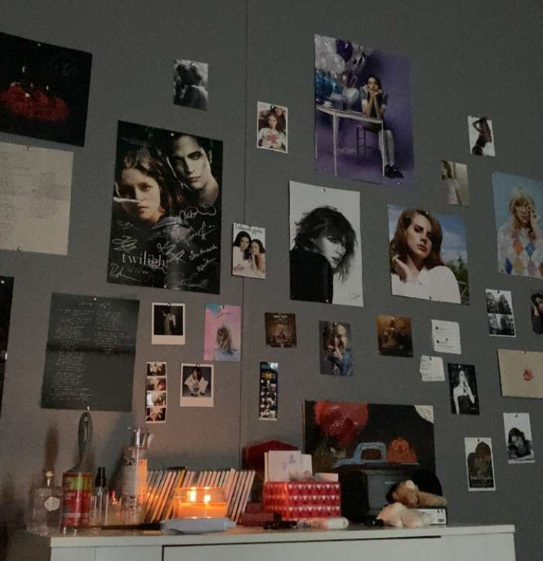 Warm air and the sound of faint music play with a window letting in just enough sun to light up the gray walls covered in neatly spaced posters. A soft carpet that matches the white and brown furniture is what greets a person upon entering Taylor Ross's room.
Though this room wasn't always as gentle and comforting as it is now. It has changed over the years with her personality.
"I've had this room since I was one year old," Taylor Ross said. "The walls used to be hot pink, but I'm not really into vibrant pink colors anymore."
Now Ross's room is decorated with posters from artists she adores.
"We have a poster of 'Superache' by Conan Gray, his most recent album that came out last summer," Ross said. "It's very nice. it came with my vinyl. We have some Taylor Swift albums on there also like 'Lover' and 'Folklore,' and then we have Lana Del Ray's 'Born to Die.' Then, there are some random photo booth pictures."
Compared to other posters on her wall, there are noticeably more posters of Taylor Swift and Gracie Abrahms compared to other artists. She mentioned falling out of interest with the other artists and describes what keeps her interested in Taylor Swift.
"What keeps me interested in Taylor Swift is the different genres that she can produce," Ross said. "There's 'Reputation' which is a very boppy album as well as '1989,' and then there's 'Folklore' and 'Evermore,' which is much sadder and has more of a slow tune compared to her other albums."
She also has a strong love for Gracie Abrahms, an artist opening for Taylor Swift on her tour.
"She's my favorite nepotism baby," Ross said. "Many people will say that they know her because of her dad, but she has brought up an image since 'Minor' was released, and her recent album 'Good Riddance.' Also, it was recently announced that she was going to be touring with Taylor Swift. Since then, I feel like she's been growing a larger audience and more fans have been connected to her."
Ross will be seeing Gracie Abrahms and Taylor Swift live in June and is keeping track of what she is going to hear.
"In my notes app, I've been keeping a list of all of the surprise songs that Taylor Swift has been performing at her shows," Ross said. "She performs two every show, and I've just been keeping track so I have an idea of what I could possibly hear. She's already sung so many of the songs I wanted."
No matter what songs are played, Ross will enjoy the experience.
"I'm so excited to actually be able to hear her," Ross said. "I've never heard Gracie's music live, same with Taylor Swift. I can't wait to actually experience it because of course there are videos online, but nothing beats actually hearing her music."
Leave a Comment
Your donation will support the student journalists of Logansport High School. Your contribution will allow us to purchase equipment and cover our annual website hosting costs.