Q&A With English Teacher Julie Gaumer About Her Son Jeremiah Miller's Graduation
How does it feel to have another kid graduating?
Since it is the second time around, I am unsure which was most accessible and which was the hardest. I would say there is a mix of nerves and pride for what lies ahead for your child. I think you never stop loving your child. You never stop wanting them to succeed at whatever they put their hand to. You never stop worrying about their choices and their paths forward.
How do you plan to spend your remaining time with Jeremiah before he is off to college?
We always try to spend some family time together. Although we are a busy family, we do try to attend every kid's event. He will be working mainly this summer, but we have trips planned to spend a lot of quality time together. We will probably go to Cedar Point, Indiana Beach and have family dinners. 
What are your favorite memories with him?
I would say it would be his kindergarten graduation when he walked across the Landis stage with two black eyes and a broken nose because he had just had a baseball accident that weekend prior to graduation. That was a memory, and it didn't phase him from walking the stage and living his life. I feel he has been that way ever since. He has been a quiet confident young man his whole life.
What was something you are proud of him for doing during his high school years?
I am proud of him for keeping his head on straight. He has a great set of friends. They have been like sharpening iron. They have encouraged one another to keep on going. I am proud of him for not getting too big for his britches.
What was it like for you in high school?
When I first got into high school, I would say that I was shy and unaware of what I wanted to do with my life. I think high school gave me a sense of confidence and finding the skills that I was good at. I think it's a similar time for people when they can find their weaknesses and find the person they want to become in the future. 
What was your favorite thing Jeremiah did in high school?
I would say Jeremiah never had a favorite sport until midway through junior year. He has always loved every sport he has ever played. He truly has given his all in each sport he has ever played. Despite his injuries, he has always had great comebacks. I was very proud of his mindset in each of his obstacles. I was proud of the fact that he looked at athletics, and he applied it to his academics. He kept pushing himself to strive for his best.
What do you want him to know about college before he leaves?
I want him to continue to have a balance between having fun, time management and discipline. I hope he keeps his head on straight and realizes he has all the tools he needs to be successful.
What is something you will miss while Jeremiah is away at college?
He would always have his friends over unannounced, and they would make themselves at home. There is always somebody hanging out at the house. I love the camaraderie and socialization of the kids and all their friends, so I will miss that.
Leave a Comment
Your donation will support the student journalists of Logansport High School. Your contribution will allow us to purchase equipment and cover our annual website hosting costs.
About the Contributor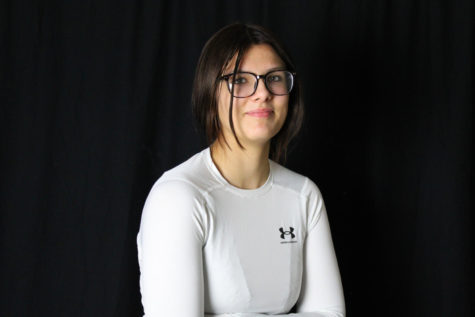 Miaya Smith, Reporter
In her first year on staff, freshman Miaya Smith is a reporter from the Class of 2026. She started by taking Journalism, and after that class, she went...