In the past, lockers were a main part of a student's day. Now, they have become a distant memory. TV shows and movies still include the frequent trip to the decorated and used locker, but in this high school, lockers sit still. Lockers are now useless. 
In a time when we have switched locker policies, the COVID policy seems to be the most effective. Going back to your locker again and again in a day is tiring. Why go back when we could have a portable locker right on our shoulders?
Each class requires notes, supplies and sometimes textbooks. These essentials are heavy and bulky. Having these stored in the convenient backpack, ready to grab when walking into the class, is a weight off of a student's chest.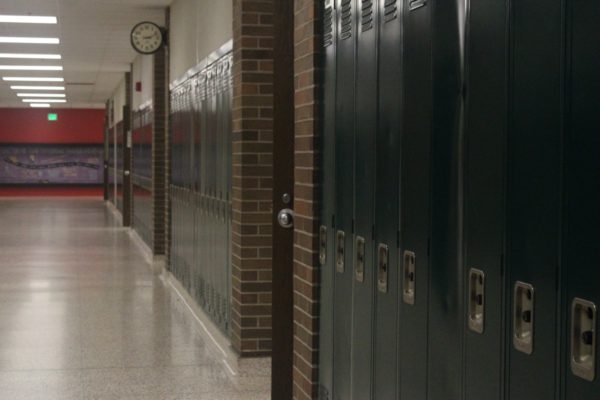 Schools like Lewis Cass High School have already reversed their policy on lockers. They now have banned backpacks from the classroom. Lewis Cass student Linday Landis talked about her school's locker policy. 
"Passing periods have always been hectic even with backpacks, so you can imagine how insane it is now to use lockers," Landis said. "Trying to get to class on time and get to your locker adds so much unnecessary stress to students. This makes the rest of the day aggravating and stressful." 
Understandably, administrators advocate for lockers and not backpacks in the classrooms. They argue it is somewhat safer. Backpacks in the middle of a classroom could create even more chaos during a fire drill or lockdown. There is also the issue of students bringing in items that could be dangerous. 
These are valid concerns. However, there should still be a way that we can minimize the safety concerns by allowing backpacks in the classroom. Students should be instructed to place their backpacks along their desks safely, allowing for more room between them. 
Administrators should also allow clear backpacks. Clear backpacks allow students to have a backpack and teachers to monitor what students are bringing in.
"Clear backpacks are the compromise that students want," Landis said. "We get our backpacks, and the administration can monitor our safety."
Should backpacks be banned?
Sorry, there was an error loading this poll.
Sadly, the banning of backpacks could make its way to our high schools again. It's spreading to many schools in Cass County. 
All students can work together to achieve what they want. Lockers are inconvenient at times and backpacks help us. At the very least, we should continue the policy we have now: allowing backpacks in the class and still using lockers. 
For these reasons, we should advocate against the banning of backpacks and let our administration know that we want our backpacks in class.