Did Celebrities Fit the Theme of the Met Gala?
Opinion
The new Met Gala was on May 2, 2022. There hasn't been much talk about it, which is a good thing. Nobody is saying anything bad and there really weren't that bad. Everything I've heard about it is how amazing some of the outfits have been. The theme this year is "Gilded Glamour." Gilded means to show how wealth and glamour were used to conceal the social unrest and turmoil of the era. The Gilded age itself refers to the years between 1870 to 1900.
Blake Lively
She "patinaed" as she said. She arrived in a copper dress that changed to teal as the dress progressed down. Her fit was monumental. It represented New York City. Everything about it was just crazy. The detailing was from the Empire State Building, drapping for the Statue of Liberty, and constellations from Grand Central Station. Her crown had seven spikes like the Statue of Liberty. She has seven points representing the seven seas and seven continents. This was a 10/10. It really represented New York City in every way.
Kardashian-Jenners
Four out of the five Kardashian-Jenners girls were at the Met Gala. Their outfits were very interesting. I'm not sure how to feel about their fits. Each one was very unique. Kylie had an off-white shirt with a hat, giving off-white wedding vibes, it's really not it. She had her hair down and everything. Kim dyed her hair blonde out of the blue for this, it's a very bold Choice, but it looks so good on her. Kim also wore Marilyn Monroe's old dress, it got stretched out to fit Kim's body because it wasn't her size. It fits the theme of Gilded glamour but
Kris Jenner wore a yellow one-shoulder silk gown by Oscar de la Renta with white gloves and hair styled like Jacqueline Kennedy Onassis, flipped our on the ends, and side-swept bangs. it's just too much to get Marilyn Monroe's old dress and wear it, Especially when it's not your size and you have to stretch it out. But besides that, I do really like the dress but it's too much to be certain that she did with it The sleeve things, just wasn't it. Kendall dyed her eyebrows blonde, which is kinda weird. Why your eyebrows, it looks like she doesn't have any eyebrows in the pictures. Kris(the mom) her hair likes so cute, I do like her dress but she could have gone a little bolder. The great yellow color on her, but it looks like T-shirt with Gems. Khole and Kendall's fits are different, not the best, but okay. I've seen worse. I give it a 5.6/10. They all could have done a lot better to match the theme and some things they shouldn't have done.
Gigi Hadid
Gigi was wearing a very big Versace piece. It was ginormous and very heavy as Gigi said. I don't really see it fitting the theme but it's very bold. It's a big coat, then a leather-type body suit. I like the body suit part of it, but not the coat. I'm not surprised that it was so heavy and felt very uncomfortable. At the Met Gala, you don't have to be comfortable and stylish, but this piece just was not it. It looked amazing and props to her for wearing it, but I have to give it a 5.5/10 just because it did not really fit the theme, and it was just a lot.
Bella Hadid
The complete opposite of her sister but it feels like her outfit goes with the theme a little better, but still not it. From her sister and her fit, they're very different styles. There is a pearl anklet on her ankle, I don't really know what that's about. I really don't think either of them had an outfit that went with the theme for Gilded Glamour. I really like it, it fits her. It has a darker vibe to it, which I kind of like but it's too darker. It reminds me of something that is not very appropriate but again, fits her vibe.
Billie Eilish
All of it was Gucci materials, including custom vegan leather and Gucci shoes. She was wearing vintage jewelry, nothing spared. Everything is thrifted Gucci. There is nothing more to say than that. She looks gorgeous. It fit the theme of Gilded Glamour. With everything thrifted as well, it makes it even better. It gave me princess and the frog vibes, It was a cream color base with a green bow right up to the chest. I think that's something I liked about it was it remember me of my childhood. Definitely a 10/10.
Olivia Rodrigo
Rodrigo has a lot of purple throughout her Album. In her hair there were a couple of purple butterflies, again fitting her vibe in the steamer of her album. Do I think it fits the theme? Not so much. It looks so good on her and it fits her music, but not the theme as much. It fit her perfectly 6/10.
Leave a Comment
Your donation will support the student journalists of Logansport High School. Your contribution will allow us to purchase equipment and cover our annual website hosting costs.
About the Contributor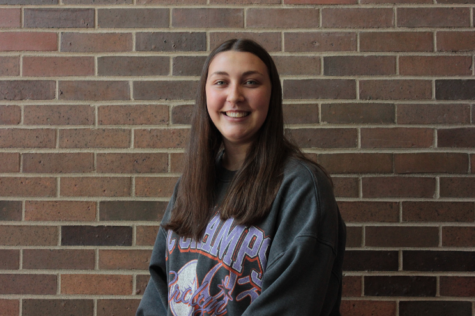 Jerika Razer, Reporter
This is Jerika Razer's first full year on staff, and she is the Feature Section Editor. She is a sophomore at LHS. She has enjoyed her time on staff and...