Junior High and Elementary Teachers Recognized For Their Connection with Students
As students move through their school careers, they go through many teachers' classes. Each teacher affects them differently. Some may love the teacher while some may not. So who are some of Logansport Community School Corporation's most remembered teachers?
Andrea Meagher, an 8th-grade English teacher/Language Arts teacher, was voted one of the top teachers at Logansport Junior High. She has been teaching the eighth grade for nine years. In the past, she taught a few years of high school. She attended Indiana University- Purdue University Indianapolis and received an English degree with a minor in Literature.
"I absolutely love to learn, especially if learning is fun and engaging. I hoped that I could enter the classroom and focus on the topics that I love and share that knowledge in a meaningful way. I'm also a people person," Meagher said.
As a teacher, a relationship is built between teachers and students, many students acknowledged the way Meagher taught them.
"I think what made Mrs. Meagher different than the rest of the teachers I've had is that it was like she was more than just a teacher. She was a friend as well in a way. She cared more and noticed more than most teachers would. I still appreciate her for that to this day," sophomore Phoenix Cripe said.
Meagher is known for reaching out and really making a relationship with her students. Many students have expressed their appreciation for having a teacher that can have fun while still learning.
"I think the most important part of my job is building relationships with my students and letting them experience the world in new ways through literature. Class is my favorite when it is lively and interactive. I don't mind a little chaos," Meagher said.
Another teacher who prioritizes student-teacher relationships is Trent Tocco.
"Mr. Tocco was one of the best teachers I've had throughout my fourteen years of school. Everything he did, the way he taught, benefited me in every way I can think of. He made being in school fun in a way," senior Kaidynce Edmondson said.
Tocco is now teaching math at the Sixth Grade Academy, he is in his fifteenth year of teaching mostly fifth and sixth grade. After attending Logansport schools all his life, he went to Ball State for Elementary Education.
"At the risk of sounding 'nerdy,' I enjoyed school for the most part. Yeah, it was hard, but I didn't mind going each day. But truthfully, I had great teachers in the corporation that made an impact on me," Tocco said.
He returned to teach at Logansport High School from Ball State in 2007 and has been in the Logansport School Corporation ever since. Out of the years of teaching, Tocco has had some trying times.
"It wears on you, but all in all, I wouldn't change it. I've become a better human being and a better citizen because of it. Seeing the hardships some of my students have struggled with, I've developed a greater sense of empathy and understanding," Tocco said.
Empathy is one thing you grow in while being a teacher. They learn to connect with others differently. He believes his biggest job as a teacher is to be a positive role model for his students.
"Of course, the teaching aspect is important, but you can't teach if you're not on the same page with your students. Let's face it, many of my students over the years have lacked a positive male role model in their lives. Many come from single-parent homes. I'm often told that I'm a student's first male teacher. What better way to make a difference than being a positive influence in their lives," Tocco said.
Interview with Andrea Meagher:
If you are able to share, what has been your favorite memory over the years of being a teacher?
Greek plays! We used to always have students create theatre masks and perform their own Greek plays at the end of the school year. It was always hilarious and wildly creative. I still have some of the current seniors' masks hanging in my classroom!
If you could go back and give your past self advice on being a teacher what would you say?
I would say stop trying to grade everything and don't worry about making everyone happy. Not every kid will love your class.
Who is your biggest role model?
My high school English teacher is absolutely the reason I ended up in this career. She was firm but fun. I learned so much from her and she made a huge impact on me. Twenty years later, my friends and I still talk about how wonderful she was. It would be an honor to make even half the impact that she made on us.
Interview with Trent Tocco:
If you are able to share, what has been your favorite memory over the years of being a teacher?
Quick answer: the students and my colleagues. Aside from them, back when I taught Science, all the experiments we used to do and seeing their excitement. We used to make slime in class before slime became so trendy. That was always a favorite day of the school year.
If you could go back and give your past self advice on being a teacher what would you say?
As a younger teacher, I'd tell myself not to sweat the small stuff. If a student doesn't have a pencil, give him/her an extra one. If they don't have their assignment done, you can't worry about it. Nothing you do or say will change the circumstance. Some things just aren't worth stressing over!
Who is your biggest role model?
Family is always an easy choice here. I have a sister who is an ER doctor in South Carolina, and two successful brothers in Florida. In the world of education, I'd say Dr. Theo Stevens. He was my first assistant principal when I was hired. He's been a great mentor and friend along my journey.
Leave a Comment
Your donation will support the student journalists of Logansport High School. Your contribution will allow us to purchase equipment and cover our annual website hosting costs.
About the Contributor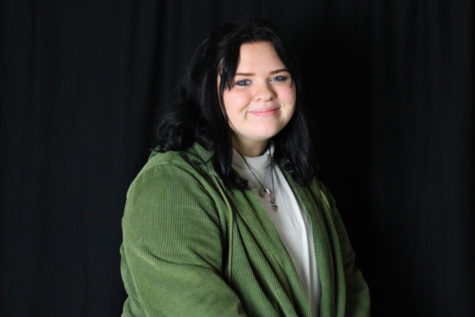 Jasmine Zimmerman, Features Section Editor
I joined Magpie because a friend recommended it to me and explained how fun it is. I have always enjoyed writing, so I decided to give it a chance. In...