"Mamma Mia!" Drama Club Brings a Variety of Talent
The buzz around the theater department is all about the upcoming winter fantasy "Mamma Mia!" and the LHS Variety Show. Theater kids all over LHS are excited for both of these shows, and their patience is wearing thin. With the Variety Show coming up, many people wonder what exactly it is every year and are apprehensive to participate. Senior Gracie Kitchell, however, advocates for it.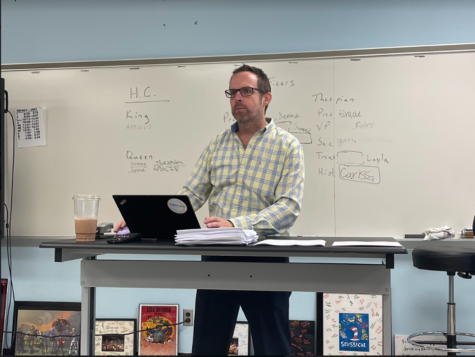 "The Variety Show is put together by students of various different backgrounds, hence the name Variety Show. It's a very effective fundraiser for the drama department that showcases so many schoolwide talents," Kitchell said.
More anxiety however centers around the winter fantasy, and with new freshmen, it's hard for underclassmen to know what to expect. 
"Newcomers can expect a lot of hard work that totally pays off. Practices are long and tiring, but the end product is such an adrenaline rush. Theater is such a big family, so newcomers should expect to come into a very understanding group," Kitchell said, "It is two fast-paced months of practice before a weekend full of shows. The musicals at LHS are the most popular shows we hold as a student body."
With that said, "Mamma Mia!" is a highly beloved musical and movie franchise and has many excited for its beginning as the 2022 LHS school musical. 
"I am thrilled to put on 'Mamma Mia!' because I grew up watching the movie for hours on end every weekend," Kitchell said, "As soon as I would get through the movie, I would beg my parents to turn on the singalong version. I am so grateful that this is my last winter fantasy and I cannot wait to work with my friends on my favorite musical of all time."
The last day to audition for the Variety Show is September 7th after school, and the auditions for "Mamma Mia!" will take place on the 13th, 14th, and 15th of September.
View Comments (1)
Your donation will support the student journalists of Logansport High School. Your contribution will allow us to purchase equipment and cover our annual website hosting costs.