And the Award Goes to…
While sitting at the table in the conference room at Indiana High School Press Association Leadership Workshop, the Magpie editors learned that they had won the Hoosier Star Award in recognition of their work in student journalism for the 2021-22 school year.
"I think we deserved the award. We worked very very hard, and we started the year with basically no website at all, and five of us completely transformed it. Then, the second semester, a lot of people came in and also helped with making sure the website was running and was smooth," editor-in-chief Kylee Langley said. "I think that winning the award really showed that our hard work paid off."
The Hoosier Star Award is an award that student media can receive if it achieves an excellent or superior ranking on a Hoosier Star Media Evaluation. This award is high ranking and a big deal for the Magpie staff.
"Winning was really surreal for me because we are ahead of schedule. I wasn't expecting it to happen this year," Magpie advisor Chris Pearcy said. "It was very bare bones when I took over. We had five kids, and there wasn't much of a website yet. We really had to build it up. So, I figured it was going to be two or three years before we got to that level."
Magpie almost did not have the chance to get the award.
"IHSPA is who runs it, and you have to be a member to qualify for the award," Pearcy said. "We almost did not join because we didn't have much money. But, when I contacted them, they said it's free for your first year. So, we decided to join, and then you have to apply for the Hoosier Star Media Evaluation."
In May, they discovered that they were finalists for the Hoosier Star Award.
"We all were really surprised when we were a finalist at the end of the year, and then it was awesome to actually win the award," Pearcy said, "I kind of had a feeling it was coming as we did really well in our judge's feedback. We were superior, but at the same time, we didn't want to get our expectations up too much."
The idea of figuring out what someone wants to do with your life is determined by the events that have led a person to that point. For some on Magpie, this continues to inspire their future career path. 
"I really want to be able to continue writing journalistically," Langley said. "Like pursuing that as a career, and I feel like high school Journalism has really shaped that for me. I think the best article that I have written was the article I wrote about Humberto Sanchez, honoring him. I won multiple awards for it last year and I was really able to put a lot of people's perspectives and emotions into that article, I think it was well written."   
Giving people the opportunity to talk about themselves and their achievements can be inspiring for the listener. The ability for someone to speak on their own behalf has shown scientifically to be useful for someone's self-confidence. When you get an award or create something great, talking about it can not only feel great but be mentally helpful as well.
"I think the best article that I have written is probably the 'Anxiety: It's Not You'," Managing Editor Emily Sanchez said. "Because, I personally have had some anxiety attacks, and I think it just resonated with a lot of people. I got to tell a story through students."
Leave a Comment
Your donation will support the student journalists of Logansport High School. Your contribution will allow us to purchase equipment and cover our annual website hosting costs.
About the Writer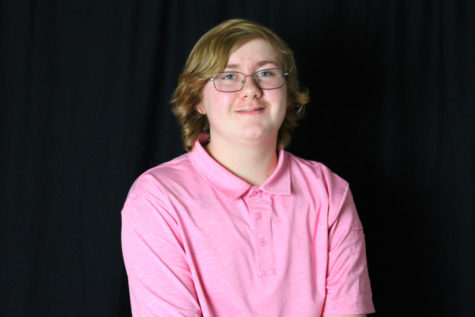 Benjamin Atkinson, Reporter
Benjamin Atkinson is a junior at LHS. He has been a reporter for Magpie for nearly a year, and some things he loves about Magpie are the people he works...