Sports Briefs: Weather is Making it Extremely Difficult for Sports
As spring has blossomed, new weather has introduced itself. Head golf coach Pete Lundy comments on the weather.
"So far, this season it has been extremely cold and rainy. We haven't had many chances to get any good solid practices done, but from what I am seeing from our top 5 players, I am excited to finally get to play a match," Lundy said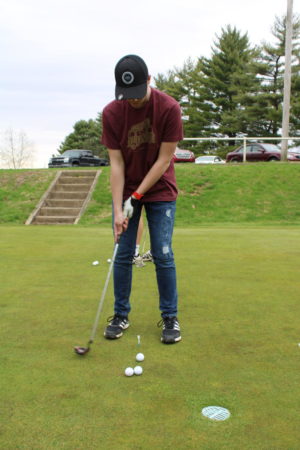 Something else that has affected the seniors is COVID. The seniors were sophomores in 2020, so COVID took away their year.
"This year, we are on a more normal schedule, and it's the first sense of normalcy we've had since March of 2020. I'm excited for our senior group. They have endured a lot. They have been pretty good since they were freshmen, but our Senior group in 2019 was very strong, and so they played JV most of the year. Then, they lost their sophomore season, which I think set us back. Not just for these guys but for athletics in general. Kids sat around and basically did nothing and were told to do nothing, don't go anywhere, and that can have devastating effects mentally and cause you to lose your passion for sports," Lundy said.
Track Season Picks Up
Carissa Dawson, Reporter
The track team has had a slow start with their last meet being snowed out. The team was unable to compete. Luckily, on April 19 there will be a home meet. LHS will be competing against Winamac.
"I've definitely done a lot more than last year, more varsity meets and competing for JV here and there," sophomore Vasan Nomany said, "Regarding the 19th, everyone runs at home meets usually, so I'll be doing something. The running list hasn't been announced yet, so we aren't sure exactly what we are doing yet. Overall, I just hope we kick some butt!"
The meet against Winamac begins at 5:30 PM, and concessions will be offered. This is an opportunity to stop by and support the students of Logansport High School!
Leave a Comment
Your donation will support the student journalists of Logansport High School. Your contribution will allow us to purchase equipment and cover our annual website hosting costs.