Magpie Ranks in State Awards
Members of Magpie and Magpie staff as a whole won seven Rowena Harvey Awards at the Indiana High School Press Association Journalism Convention. The Rowena Harvey Awards celebrates outstanding individual and staff achievements in journalism. The award was named in honor of the late Rowena Harvey, a former president of IHSPA and an advisor of student newspapers for 40 years.
Magpie won 1st place in Club/Organization Coverage, 2nd place in News/Current Events Coverage, 3rd in Opinion Coverage, and 1st in overall Website design. Podcast Editor Carissa Dawson won 2nd place in Feature Writing, Assistant Photo Editor Jennifer Anaya-Serrano won 2nd place in Photo Portfolio, and Photo Editor Gretchen Prifogle won 1st place in Spot News Spot Photo. Kylee Langley, Editor-in-Chief for Magpie, was also elected to the IHSPA Student Board and advisor Chris Pearcy was elected to the Executive Board.
Prifogle was taking pictures of the funeral procession of Corporal Huberto Sanchez for a video when she captured a picture of an honorary fly-over performed by the Indiana National Guard.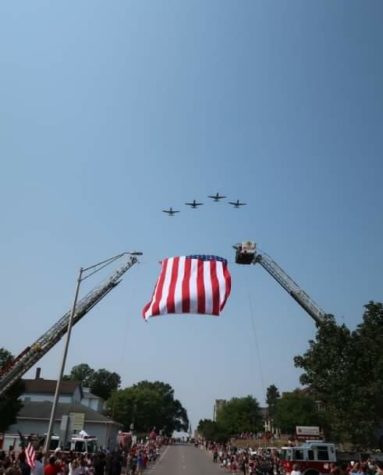 "I feel super honored to win first place for a picture I took," Prifogle said. "It was a total coincidence when I took it, and I think that makes it more special."
Dawson's article, "Students Embrace Their Identities," an article covering LGBTQ+ youth, was only the second article she ever wrote at the time. With her working on the article outside of school and with little training or experience in writing articles, she was shocked that her article won.
"I actually heard secondhand that I won the award, and nobody knew what I won it for," Dawson said. "I was really excited because I want to go into journalism after high school, and this feels like a really good start to me getting recognized in high school and just being able to win awards for my work."
Serrano's portfolio consisted of the best photos she took last year. A photo of last year's spring play "Puffs", a mini-painting and an abstract tiger, both by Adrian Gazcon, an artwork honoring Black History Month, and the painting "American Passion" at the outdoor gallery on Fifth Street.
"It was stressful," Serrano said. "I asked around a lot to see what other people thought were my best works. Even though I didn't expect anything, I really wanted to make Magpie look good."
With most of them having little experience at the time and being new to Magpie, all three believed it is possible that they would win the award again as they have improved over the past year.
"I'm proud of myself," Dawson said. "It's really good for my confidence going into the real world as a potential journalist."
Leave a Comment
Your donation will support the student journalists of Logansport High School. Your contribution will allow us to purchase equipment and cover our annual website hosting costs.