Logansport to Host 2A Boys Basketball Semi-State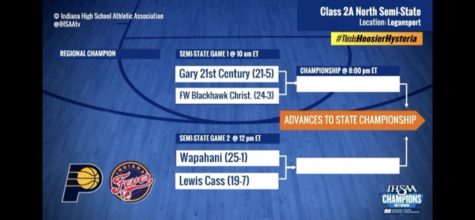 The Berry Bowl looks to be at max capacity Saturday as four Class 2A teams fight for their way to compete at Gainbridge Fieldhouse for the IHSAA Boys Basketball State Championship. Logansport is one of the four northern hosting sites for the boys semi-state. Michigan City will host 4A, Elkhart will host 3A and Lafayette Jefferson will host 1A.
The 21st Century Charter Cougars (21-5) will face off against the Fort Wayne Blackhawk Christian Braves (24–3) in the Berry Bowl for game one, tipping off at 10 a.m. Following game one, the Lewis Cass Kings (19-7) will face off against the Wapahani Raiders (25-1) at noon. The winners of games one and two will meet at 8 p.m. for the championship game.
The Cougars are a Gary powerhouse program that is ranked fifth overall in class 2A. Senior Ashton Williamson averages 16.5 points per game while shooting 59 percent from the field. Sophomore Lemetrius Williams stays in the post to average just shy of 14 rebounds per game. 
"Our strengths will be our experience, having guys who are hurt from losing at this point last season fuels us," 21st Century Character head coach Larry Upshaw said. "Our weaknesses would be the nerves of not knowing what to expect. This season has been fun. These student-athletes have worked very hard to get back to this point. We are striving to move forward with grace on our side."
The only recent previous meeting between these two teams goes back to the 2018-19 season when the Braves beat the Cougars 65-57 in the regional match-up. This season, the Braves are ranked first overall in 2A. 
"This week, we have been working on playing within ourselves, not rushing and rebounding the basketball," Upshaw said. "The team bond is very good. It shows in our stats. We have four guys who average double figures and two that average nine. We share the ball, and they like one another off the court. Our game plan entering Saturday's match-up is to do whatever it takes to get the 'W.' I want our guys to play with passion and have fun."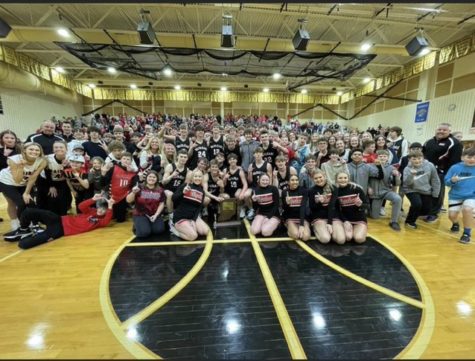 Wapahani is ranked sixth in 2A and will be taking on the Kings. Junior Issac Andres averages 18.1 points per game while sharing the ball, gathering 4.9 assists per game. Senior Nathan Nelson averages 6.5 rebounds per game.

"We have had some great seasons in my 16 years at Wapahani, but this will go down as one of the most memorable," Wapahani head coach Matt Luce said. "We lost our first game of the season at home by two points to our rival Muncie Central. Since then, we have now won 25 straight games. Our team is made up of kids that love to play together and have grown up wanting to play basketball at Wapahani. I have coached all of them in youth basketball growing up and now high school."
To further their winning streak, the Raiders defeated the Carroll Cougars 73-50 in their regional championship. 
"Winning the regional was a great accomplishment for our basketball program," Luce said. "We had a great crowd, band and student section at the Lapel Regional. We are thrilled to have another week of practice with our team. The strengths of our 2023 team are our team togetherness, hustle and shooting. We pride ourselves on taking great shots and making the right play."
The environment will play a critical role for both teams on Saturday.

"Lewis Cass has had a great season," Luce said. "We know they have some very good athletes and will give us a huge test in the semi-state. We also know they will bring many fans to the Berry Bowl. We expect the Wapahani and Lewis Cass crowd to be very loud. Our Wapahani team is made up of a fun group of kids that love representing their school and community. We are excited to be playing Saturday at the legendary Berry Bowl in Logansport, Indiana."
Although the Berry Bowl is a neutral stadium for these two teams, it's only a 10-mile drive for the Kings.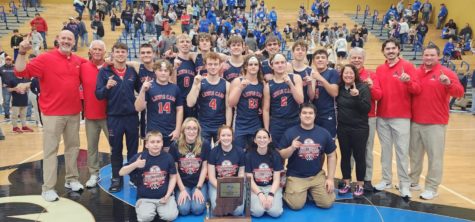 "We are thrilled, "Lewis Cass head coach Kyle Johnson said. "I believe the crowd will work in our favor. At this point in the season, it doesn't matter if you are a Logansport fan, Pioneer fan or a Caston fan. You will show up for that game and hope that your team makes it to that 8 p.m. game. I am super excited to be only 10 miles from home. It allows us to be comfortable and not have to change our schedule much."
The Kings are ranked 10th overall in 2A. Senior Luke Chambers is shooting 63 percent from the field averaging 16 points per game. Senior Tyson Good is a dynamic duo partner to Chambers, who averages just shy of 15 points per game. The Kings prevailed over the North Judson Bluejays 62-51 in their regional contest.
"It was pretty exciting," Johnson said. "Just being over to get over the hump at the sectional finals. We have been two years priors and weren't able to win. Going to North Judson for regional, we played against a team with a good record and very a team overall. Everyone is just really excited."
The Kings have only competed in two previous basketball semi-states, although Johnson plans to make it a tradition.
"We don't want it to stop there," Johnson said. "We want it to keep going. It's exciting to be able to put your name and your team in the record books. I plan on continuing growing kids. It's been a lot of fun growing this program. We were starting to work with the third graders up to the twelfth grades. If you want to be a good program  long-term, you have to successfully work with young kids as well."
Leave a Comment
Your donation will support the student journalists of Logansport High School. Your contribution will allow us to purchase equipment and cover our annual website hosting costs.