Berries Take Third Place at Cass County Track Meet
The Cass County track meet held last weekend saw a remarkable display of athleticism, as high school teams from around the county gathered to compete. Among the many talented athletes who participated, the Berries stood out with an impressive performance that landed them in third place overall. Pioneer swept the meet, Lewis Cass placed second, and Caston placed fourth.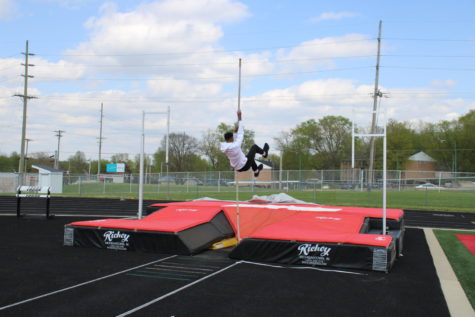 For the boys, senior Chris Jean Rene won the 110-meter hurdles in 16.55. Rene was also a part of the Berries 4×100 meter relay squad consisting of senior Christian Wicker, Senior Aaron Bau, and senior Luis Ortiz, who placed first with a time of 45.91. Bau won the high jump with a jump of 6′ 0″. To conclude the meet, the Berries 4×400 meter relay consisting of sophomore Arain Castro Martinez, sophomore Tate Strong, sophomore Brandon Diaz, and senior Payton Herr edged Lewis Cass at the finish line to gain first place with a time of 3:40.25.

"As a team, I feel we did the best we could," Diaz said. "Saturday should've shown our true colors because of how good the conditions were and how important the meet was."
Diaz was a 3-event athlete Saturday, while he competed in the 4×800 meter relay, 800-meter run, and the 4×400 meter relay. He finished fifth in the 800-meter run, recording a time of 2:13.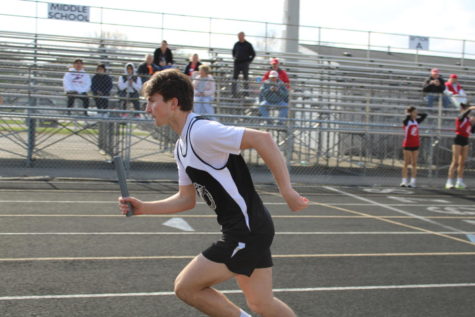 "Individually I think we did great," Diaz said. "Both of my relay teams achieved a personal best and demonstrated our seeding in our sectional was rightfully earned. I admit my solo 800 wasn't the best I could do and I just simply blame that on strategy."
The Berries 4×800 consisting of Diaz, Strong, Junior Anthony Gallardo, and Herr dropped 18 seconds off their previous best time, ranking them third for the IHSAA sectional that will take place on May 18 at Kokomo.

"Earning the rank of being third in sectionals has given both my relay teams the encouragement to move to regionals," Diaz said. "All it takes is a third-place finish at sectionals and we'll advance to regionals. I feel like we have worked hard enough to obtain the sport, I can't wait to see what we can accomplish in sectionals."
Gallardo is a first-year runner for the Berries.
"Track has been fun so far," Gallardo said. "I've been able to improve and push myself to improve in both, cross country and track."

Gallardo had a standout year for the boy's cross-country team.
"It was my first year of cross country and I wasn't sure what to expect," Gallardo said. "I had a blast and I just want to improve year after year. My success in cross country definitely has a role in how I ran this track season."
The Lady Berries aren't too far off from that top three positions. The 4×800 meter relay consisting of freshmen Audrey Graham, senior Elizabeth Buenaventura, freshman Jacqueline Hernandez, and senior Cecially Martinez is ranked fifth. While the 4×400 meter relay consisting of Graham, junior Genaliz Viera, junior Lanee Huff, and sophomore Ashanta Curry is ranked seventh.

"Till sectionals, we plan on running each day and having a couple more hard workouts," Graham said.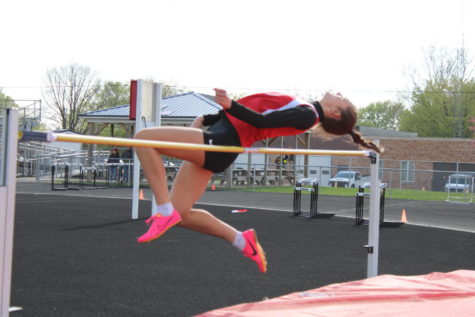 At the County Meet, the 4×800 meter relay team took first with a time of 11:45.22. The 4×400 meter relay took third place in 4:36. Hernandez won the 3200-meter run with a time of 13:34. Martinez won the 1600-meter run in 6:34. Huff placed second in the high jump and third in the long jump.

"While we definitely weren't as competitive as in prior years," Graham said. "I think most of our runners really pushed their hardest for the county meet." 
After the track season comes to an end, Graham plans on competing in cross country in the fall.

"Shortly after the season ends, I plan to begin summer cross country," Graham said. "I did the same last year and it seemed to help my track season quite a bit." 
The lady Berries will compete at their sectional on May 16 at Kokomo.
Leave a Comment
Your donation will support the student journalists of Logansport High School. Your contribution will allow us to purchase equipment and cover our annual website hosting costs.
About the Contributors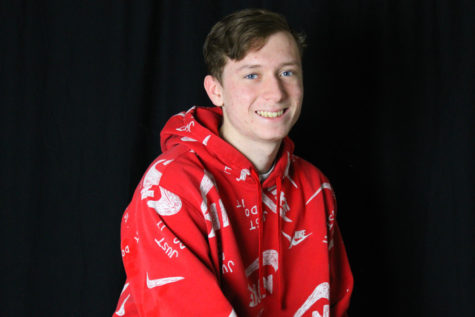 Payton Herr, Sports Section Editor
Senior Payton Herr is a reporter for Magpie and a member of the 2023 class at Logansport High School. He joined Magpie during the 2022-2023 school year....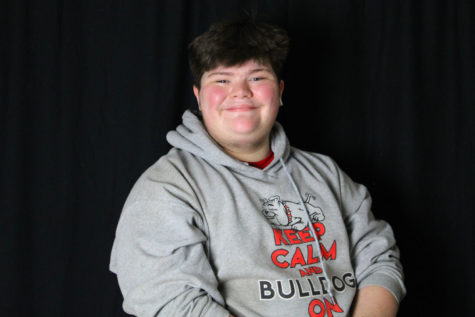 Jakson Combs, Assistant Podcast Editor
Sophomore Jakson Combs enjoys history, photography, and nature. Jakson plays three instruments: saxophone, piano, and guitar. He is in band class as well....