Viral Video of Purdue University Incident Spreads Worldwide
One of Purdue University's many safety principles is "if you see something, say something." On the night of February 4, someone on campus did exactly that. A call was placed on campus by a third party at around 8:22 p.m at Purdue University in West Lafayette. After Officer John Selke was dispatched to the site, the caller indicated that a woman was being detained against her will near Horticulture Drive. Once he arrived, chaos began to erupt.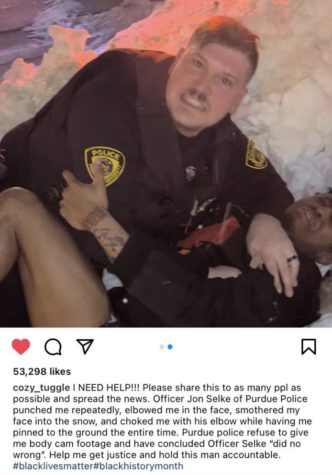 The incident started off with the officer pinning down Adonis Tuggle, a junior who attends the university into the snow. As Tuggle tried to continuously address that he was being choked and could not breathe, Selke did not pay attention and continued to use force with his elbow against Tuggle's neck. With the cold snow hitting against his face and the screams of his girlfriend Nicole Dubish, he still continued to scream "call 911" in the viral video that was posted just days after the incident.
"I'm not an expert on police procedure, but as a civilian, the video shows excessive force used on a pleading man. Regardless of the circumstances beforehand, I don't think it's right and just for an officer to continue exerting force on a person who has yielded," Purdue alumnus Tucker McCord said.
Tuggle shared the video on Instagram a few days later, asking for help in spreading the word. Tuggle is shown lying in the snow, pleading for help, while his girlfriend records the incident behind the camera screaming "Can you take your elbow off his neck? You're hurting him" multiple times. The officer responded with "touch me again and I will tase you."
"The video was very hard to watch. Listening to the student yelling that the cop was hurting him over and over was kind of traumatic. I know there is a lot of outrage on campus and people saying it never should have happened, and it was all racially motivated, but that is really hard to determine from the video that was posted on social media," Purdue alumnus Erin Bauer said.
People are inclined to blame the cop on the spot based on how the video appears, however, this may not be the case for others.
"To me, the video is not enough," Bauer said. "He should be placed on administrative leave while they investigate, but for me, it's not enough to fire him or charge him with a crime. We don't know what led to the moments we see on the video from the victims' perspectives. You can see in the video that the student is actively resisting and at one time his hand gets very close to the officer's gun. At that point, I'm sure the officer is doing everything in his power to contain the student and keep the student from his gun because it can easily be turned on him if the student got ahold of it. The student's girlfriend approaching the officer can also be viewed as a threat from the officer's perspective. He was likely thinking that the girlfriend could be a potential threat to him and harm him while he is trying to contain her boyfriend and wait for backup to arrive."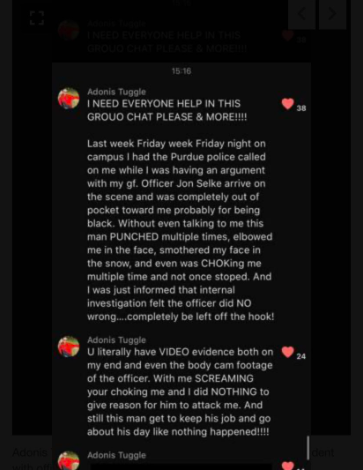 According to Tuggle, Selke finally got off Tuggle when backup arrived. One cop had his legs restrained, while another grabbed his arms. He was released from jail later that night after posting a $250 bond.
According to an official statement, chief John Cox the incident is under investigation.
"Any time a PUPD officer uses force in connection with an arrest, the department conducts an internal review. That investigation will, under PUPD General Orders, include input from all witnesses to the arrest and take into account all available evidence, including video from officers' body-worn cameras," Cox said.
Sophomore Ester Bien-Aime believes that the incident was not handled well.
"I think the incident was poorly handled and the officer should be fired. He's clearly not fit to be working on a college campus. People are supposed to feel safe when officers are around and shouldn't be afraid around them. In my opinion, I think officer Cox was trying to avoid speaking about what he did. He wasn't giving information about why he did what he did only that the situation would be reviewed," Bien-Aime said.
The case has been ongoing for almost a month, and whether or not the footage was sufficient to clear Officer Selke, he was placed on leave just days later after receiving death threats from a number of people. People have even gone to social media like Twitter to state their opinions on the incident.
"My uncle is a retired police officer from southern Indiana, so when a lot of these things happen involving the police, I always ask for his take from the police officer's point of view," Bauer said, "Some are so quick to judge and don't realize that some of what happens is part of how police officers are trained and how they are taught to handle situations. I always try to remember that police officers are trained to look for threats and not do anything too quickly that may put them on alert. They want to get home safely at the end of their shift just like I want to get home safely. They see a lot of things that no one wants to ever witness and it does shape their thought process and how they will react."
Leave a Comment
Your donation will support the student journalists of Logansport High School. Your contribution will allow us to purchase equipment and cover our annual website hosting costs.
About the Contributor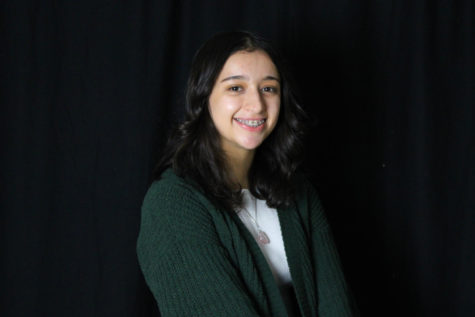 Emily Sanchez, Managing Editor
Emily Sanchez is a junior and has been a part of the staff since her freshmen year in 2020. Emily currently serves as co-Managing Editor. She enjoys writing...