Review: Rihanna 'Shined Bright Like a Diamond' in Her Halftime Show
On Sunday, Feb. 12, Super Bowl LVII commenced and Rihanna fans swarmed their televisions and the stands to watch her highly awaited halftime show, her first performance in nearly seven years. Her focus on other aspects of her career during this time, like her makeup brand Fenty Beauty, made the excitement and expectations for this halftime show only skyrocket. Of course, with every performance, there were mixed reviews. Some claimed it was everything they wanted and more, while others thought it was quite boring. There are many things to consider, but overall, Rihanna delivered a great performance.
As a Rihanna fan since childhood, I was looking forward to this show immensely. I've always been a fan of her music, and she had so many great options to choose from, being that she has a bigger and more successful catalog of tracks than most. She had a total of 12 songs on her setlist for the show, four of which I'd never heard of before. They were catchy and definitely songs I would want to listen to again and look into, but the music she performed at the show was an aspect of it where I felt there was much to be desired. 
I was looking forward to so many of her old hits that she hasn't performed in forever due to the fact she hasn't been participating in the music industry for a while now. Hits such as "Please Don't Stop the Music," "Disturbia," "S.O.S." and so many more were much more memorable and impactful songs than some that she chose instead like "Wild Thoughts" and "All of the Lights." I applaud however that she did the entire show by herself and had no guests. So often, halftime show performers rely on other guests to keep the entertainment factor going. Rihanna, with her fantastic discography, though made me happy with her solo performance. 
It was one thing to criticize the music she chose to perform, but how she performed was a whole different story. Her voice sounded absolutely exceptional. There didn't seem to be technical issues as far as her mic goes, so her voice, her pronunciation and the tone of it were incredibly clear. The backing track didn't overpower her, and you could clearly tell she was singing live. 
For the third time, Rihanna's career has pulled her in so many different directions for almost seven years, so the fact that her vocal training and her live singing have stayed at the same level, and even gotten better since then, is incredible. With advances in autotune having a strong presence in the music industry today, and many singers in halftime show past not delivering impressive live vocals, Rihanna's consistency in keeping her gift of singing well-practiced is truly wonderful.
The halftime show however is more valued on performance than vocals and how fun it is to watch. With lots of guest appearances and dancers being common in halftime shows, the audience always expects to be smacked in the face with so much going on all at once. Rihanna had a new and interesting stage, with tons of risky floating platforms stocked with dancers dressed in white Eskimo attire. Rihanna wore a red similar suit that I personally loved. The bright shade suited her skin tone very well and she had her hair in an elaborate updo. I saw some moves from the backup dancers that were original and something I wouldn't expect, and even though I appreciated it, I wanted more common choreography, meaning more choreo that people could imitate and enjoy dancing to. 
It was also popular criticism that Rihanna didn't do enough dancing or move enough to show enthusiasm about her performance. She made a special announcement at this halftime show though with the outfit she wore. The suit she wore accentuated her stomach, and she rubbed it many times throughout the performance, leading everyone to the conclusion that Rihanna is once again pregnant. 
She had her first child in May of last year, which really isn't a long time, but many people such as me thought that she just had the child and was already pregnant again. Nonetheless, just doing basic tasks while pregnant is difficult, let alone being well rested and warmed up to perform a 15-minute show in front of millions of people, especially well. I give Rihanna lots of credit for doing as much as she did in her condition. The fact that she danced at all and showed great energy as she showcased her fantastic voice is proof enough that she's a dedicated performer.
She also squeezed in publicity for her makeup brand "Fenty Beauty" when at one point in the performance she took her powder from a backup dancer and applied it to her face before continuing to sing. This was certainly iconic and a genius marketing strategy for her show, with 113.06 million people viewing it on television alone, plus the many who attended.
With all of these aspects of the show judged and analyzed, it's time to compare it to others. In terms of its ranks with more recent shows, like Eminem, Dr. Dre, etc. last year, and the Weeknd's show the year before, I found this show highly more entertaining. The Weeknd's halftime show was at the height of the pandemic, so I have to give him credit for his vocals because they were also very clear and good, just not on the level of Rihanna. The Weeknd also did zero dancing, and that made the show much less fun to watch. I also thought the concept was too odd to the point where I had no idea what was going on half of the time. 
Compared to the Eminem and Dr. Dre etc. halftime show, I didn't exactly like how many guests there were. Every artist had much more to give with their music, and so none of them got the full opportunity to showcase their talent and discography. I also understand that most of them were rappers and don't do a whole lot of dancing, but there could've been more effort into making just a little bit more happen. When good performers show their stuff, you can clearly see their passion and desire to be on that stage. Rihanna was clearly putting an effort into being memorable, entertaining and fun, from her facial expressions to the small amount of dancing she did.
Rihanna's vocals alone definitely made her halftime performance memorable and one of the best. Adding on her clever marketing, her dancing, her courage on the risky platforms, and her confidence performing while pregnant, made it a prime example of what should be in a revered Superbowl halftime show performance.
Leave a Comment
Your donation will support the student journalists of Logansport High School. Your contribution will allow us to purchase equipment and cover our annual website hosting costs.
About the Contributor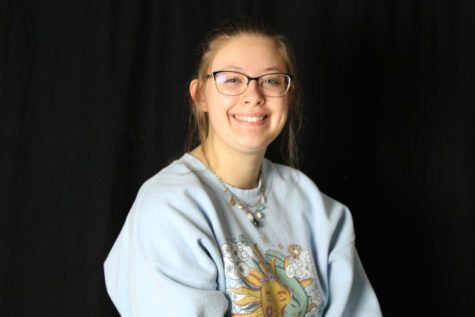 Leah Alder, Managing Editor
Junior Leah Alder is a third-year member of the Magpie staff and is the co-Managing Editor. She enjoys writing and eating her candy in class as well as...