Q&A With Jakson Combs About Jersey Collection
How long have you had your collection of jerseys?
I've probably had my collection for around four years now, but maybe longer. It's hard to tell. It's been a long time.
What made you get into collecting jerseys?
I always watched TV, and I had heard of people collecting buttons and weird stuff. I wanted to start one of my own and be unique to something that interests me. At the time, I had an obsession with Madden, and I knew Madden had real jerseys, but I didn't know the NFL was real. I just thought it was all Madden. 
Is there a specific reason you're collecting jerseys?
I just got really into collecting them because, again, I thought I could be unique.
Are they authentic jerseys? If so, how can you afford them?
Yes, they are all real. I got my first three as gifts for my birthday and Christmas from all my family. I sort of asked everyone in my family for different ones. I usually ask for one each gift exchanging holiday, and the rest I save up my own money to buy like my Kevin Garnett one.
How many do you have?
I have one hockey jersey, two baseball jerseys, and three basketball jerseys. For football, I have three Notre Dame jerseys, four Colts jerseys, one Seahawks jersey, one Saints jersey, and five Broncos jerseys. I have multiple sports, multiple teams, and multiple players. In fact, most of my colts jerseys were just donated to me by my family. I didn't really get to choose. I just accepted them because the more the merrier.
Do you have a favorite?
My favorite is probably my Von Miller jersey because it's a color rush variety. He is my favorite player of all time, and it's a very unique jersey.
What is your end goal? Do you plan on getting to a certain amount of jerseys, or something along those lines?
I don't really have an end goal. It's just the fun part of hey, I like that player, the design of the jersey, or the team. It's just a fun past-time.
Is there anything you would like to say to anyone who is wanting to start a collection something?
It's gonna start slow at the start 100% of the time. Just be patient, it will take a while, and it will cost money, but in the end, it's super cool and super fun to talk about.
Leave a Comment
Your donation will support the student journalists of Logansport High School. Your contribution will allow us to purchase equipment and cover our annual website hosting costs.
About the Writer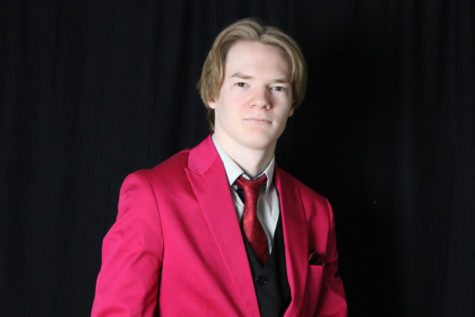 Noah Chanley, Reporter
Senior Noah Chanley is a writer and photographer for Magpie. He likes money, making money, talking about money, talking about making money, and dreams...