Favorite Songs of the Student Body
There are so many genres of music in the world. Students love to listen to music daily and mostly listen to music during school. Listening to music during school helps take off the tension and stress when doing an assignment or trying to study. 
Music is like a stress reliever when you have so much to do and feel overwhelmed. Lots of times that is the reason why students listen to music in school. Other times it's because they just want to be in their world and not worry about what's happening in their lives. Music can be used for many different reasons in a student's life.
Junior Yaretzi Perez likes to listen to music on a daily basis to help soothe emotions that cause stress in her life.
"I like listening to music because it helps calm me down when I feel very stressed out," Perez said. "I use music to help distract me from the outside world when I need to just focus on myself and not worry about what's going on around me. My favorite types of music genres that I like to listen to vary between R&B and rap. At the moment I like to listen to any music that is by partynextdoor."
Freshman Miaya Smith likes to listen to music because it allows her to enter into her own little world.
"I like to listen to music on a daily basis because it helps me relax," Smith said. "When I listen to music it helps me calm down and allows me to leave what's going on in the real world. My favorite music genre would probably be pop music. When my friends and I listen to pop music it makes us get up and jump around. My favorite song at the moment is "Never Felt So Alone" by Labrinth and Billie Eilish."
Music has a lot of benefits that can help students. Listening to music can help reduce pain and anxiety. Those two factors alone can easily help students because many students go through a lot of pain not only in school but in their household environments as well. School comes with a lot of anxiety for example when you are presenting a presentation in front of a class that makes many students very anxious. Which can easily trigger a person's anxiety so listening to music can help calm those emotions down. 
Junior Lauren Saldivar listens to music 24/7 because it helps keep her busy and also makes her feel better when she is feeling frustrated or sad.
"I like to listen to music when I am doing other things and I need something to keep me busy or entertained," Saldivar said. "Whenever I feel frustrated or sad music is always here to help me because at that moment it helps me relate to other people. I usually listen to music from the time I wake up to the time I fall asleep. My favorite time to listen to music is whenever I'm cleaning whether it be by myself or with my mom.
With different emotions comes the different music genres people listen to in order to relate to their emotions.
"I listen to a little bit of everything, it just depends on my mood at that moment," Saldivar said. "Whenever I am in a good mood I'll listen to pop music from the 2000s but whenever I am mad or upset I listen to rock music. At the moment my favorite artists are Lana Del Rey and Adele. I listen to many different artists but I always find myself listening to their songs on repeat no matter what. A song that has been hitting differently lately is "After the Storm" by Kali Uchis."
Leave a Comment
Your donation will support the student journalists of Logansport High School. Your contribution will allow us to purchase equipment and cover our annual website hosting costs.
About the Contributor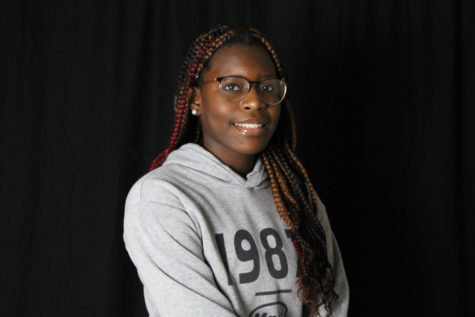 Jada Paul, Photographer
Freshman Jada Paul is a new member of Logansport High School Magpie. On staff, she covers features while also taking photos for the writers on staff. One...