In 2010, according to the former NFL player Michael Oher, his adoptive parents, Sean and Leigh Anne Tuohy, successfully stole away his ability to make decisions for himself. After looking into all the controversy surrounding the situation, I can only see how Oher is in the right. 
These claims have sparked some serious controversy in the public. These controversies mainly revolve around the honesty of the allegations. A movie, The Blind Side, was made to share the controversies over Michael Oher's rise to fame and his football career. The allegations explain that his adoptive parents took much more money than they were supposed to have gotten from The Blind Side, and took money from Oher's share in the movie.
Oher was told he had been adopted by the Tuohy family and after being 'adopted' at 16, he ended up having a relatively normal family. Before that, however, he had a very unstable family life.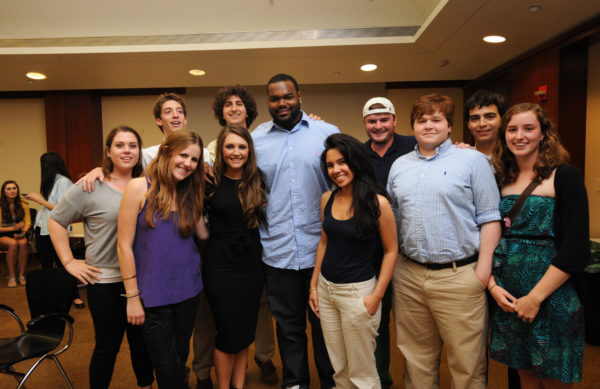 According to his lawyer, the case details the idea that Oher was not actually adopted by the Tuohy's. Oher was actually led into signing papers making them his conservators. This is when one or more persons takes complete financial management over a child instead of his adopted parents. 
The Tuohys are easily the ones in the wrong. After seeing the alleged stealing of profits from Micheal Oher's cut of The Blind Side it is easy to see this. This movie details a young hopeless boy who was 'graciously' adopted by a loving wealthy family.  In all actuality though, there have been no papers detailing the adoption of Oher, rather only showing that the Tuohy's were his conservators.
The Tuohy's claim instead that Oher is incorrect, and that they had never made any money off of The Blind Side. This claim is easily proven wrong, as it has already been released that they made over $100k from the movie. 
Not only did the family make money through the movie, the Tuohy's have also made approximately $767k from Oher's career in football. Most of this money was gained without the knowledge of Oher. The money was allegedly used to make further installments into the Tuohy's already over 100 fast food locations. 
The Tuohy's are in the wrong for their overall treatment of Oher. In The Blind Side, Oher has been portrayed as being treated very well in his new rich family. Being treated as if he was truly loved by his guardians. However, in accordance with the new controversies, we hear more and more about Oher being left out or at least being treated lesser than his new siblings. According to his allegations on the Tuohy family, the shady treatment of Oher's money was seen as nothing less than despicable.