The Cost Behind Operating High School Sports
According to the most recent report, taking place during the 2020-2021 school year, the 2021 Indiana High School Athletic Association annual report stated that the IHSAA had just over four million dollars in sports expenses and nearly $10 million in total expenses to operate high school sports.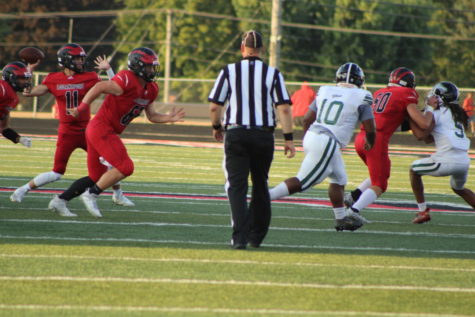 The IHSAA had a total income of $10,736,477. Boys sports generated forty-three percent of that total and girls sports generated twenty-one percent. Other sources of income were generated from corporate partnerships, official licensure, and investments.
"At the sectional level, the schools that are in the same sectional will receive ninety-eight percent of the profit. The IHSAA keeps two percent," Director of IHSAA's Champions Together Program Brian Avery said. "Once they move on past sectionals, these numbers change. Schools depend on gate receipts, fundraisers, and booster clubs to support the athletic program. A lot of schools involve themselves in corporate sponsorships to get businesses and people in the community to donate to the cause."
The average cost of a ticket for a varsity football game is $6-$8 per ticket. The money that is made at these athletic events can make or break high school athletic departments. 
"We understand that it's not easy for a family of four or five to spend $35 to come to a game," Avery said. "We do not take that for granted. That is why some schools offer season passes to avoid those costs. Our goal is to get as many people to the game as possible. When they come to the game, they are supporting their team and the school corporations."
The IHSAA spent $9,681,931 on their overall expenses. Boys sports was thirty-four percent of that total and girls was sixteen percent. The administration held a large majority of the expense with thirty-three percent, followed by contest officials (8%), technology and building (5%), and public relations & advertising (4%).
According to in.gov, Logansport Community School Corporation spent $375,246 on athletic coaches during the 2016 fiscal year. 
"The biggest impact on our budget is paying the coaching staff. A lot of money goes into that," Logansport Superintendent Michele Starkey said. "Money to the athletic departments means we can maintain the facilities we have. We have a great facility for our student-athletes. It gives our students and athletes something that they can be proud of. That money also allows us to pay for transportation costs and uniforms."
The Berries invested $1.8 million to advance their athletic stadiums around their campus back in 2015. The football, baseball, and softball fields were upgraded to synthetic turf. 
"Adding the turf eliminated the additional cost of maintenance like grass feralization, weed killing, stripping, and mowing," Starkey said. "Yes, there is upkeep but not as much. One of the benefits that we never thought of was it extends the season. In early spring, we had a smaller college that wanted to rent our baseball facility. They are paying the school corporation and staying by nearby hotels, which stimulates the economy."
The Logansport High School athletic department offers twenty-two varsity sports to its students. Each sport requires transportation, uniforms, and equipment. These are given to the student-athletes, as they are paid for by the athletic department. For other accessories, such as warm-up gear, athletes will participate in fundraisers to help their program.
"Something that our athletic director, Brian Strong, has done to help is allowing sports teams and parents to work concession stands for certain events," Starkey said. "Thirty percent of the profit made at these concession stands is forwarded to the team's account. Athletics is like another classroom setting. I think our students learn so much and learn about skills that will help them in the job world someday."
A majority of high schools have a booster club that gathers local fans and supporters to pitch in to help financially with their specific school corporation. A booster club can be responsible for concession stands, ticket takers, and fundraisers. 
"The Berry Boosters provide a lot of support to our students," Starkey said. " I know this year they were even able to give a certain amount of money to each team to provide meals, awards, letter jackets, certificates, and medals. With different sports teams doing fundraisers, it is a great way to get a little extra money to help support and buy things for the athletes that year. A lot of schools are charging student-athletes to play because of the cost. We try our best to avoid that."
Earlier this year, the Berry Boosters were able to donate a brand new trainer cart to the LHS athletic trainer, Sydney Latham, after the first quarter of the Logansport vs. Arsenal Tech football game.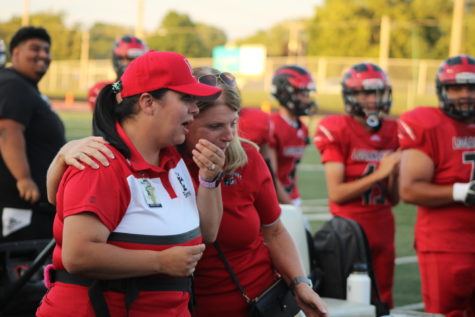 "I was thoroughly surprised when I was given the new golf cart for athletic training," Latham said. "I am still very blessed to have received it so that I can better serve our athletes and get around easier than on the old golf cart. I feel like I have been welcomed with open arms by the school corporation. They have made my job easier by supporting what I do as an athletic trainer."
Another essential asset for high school athletic departments is the cost of medical equipment to keep the athletes safe and healthy throughout their season. 
"For supplies like tape, band-aids, etc, I wouldn't say that I have like a set budget amount, but I can get what I need in order to help our athletes and do my job without the worry of not having enough," Latham said. "So per the hospital's contract with the high school I am employed through the hospital so they pay my salary and benefits, and the school pays for medical supplies."
During the pandemic, supplies like medical equipment and sports equipment have been more difficult to receive due to shortages. 
"There are all sorts of things that the department pays for that the regular spectator doesn't see or think of," Avery said. "Especially during the pandemic, the price of items was rising and shipping became difficult to receive. It's important that schools understand the importance of extracurricular activities. It's all a team effort from everybody in the community."
Leave a Comment
Your donation will support the student journalists of Logansport High School. Your contribution will allow us to purchase equipment and cover our annual website hosting costs.
About the Contributors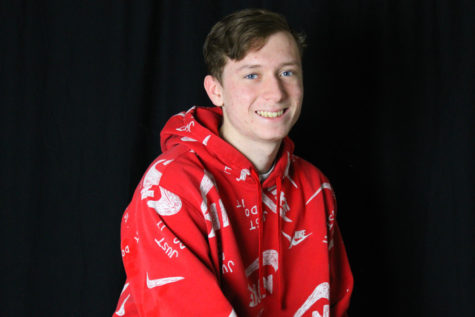 Payton Herr, Sports Section Editor
Senior Payton Herr is a reporter for Magpie and a member of the 2023 class at Logansport High School. He joined Magpie during the 2022-2023 school year....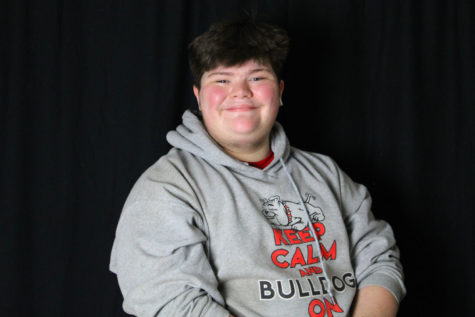 Jakson Combs, Assistant Podcast Editor
Sophomore Jakson Combs enjoys history, photography, and nature. Jakson plays three instruments: saxophone, piano, and guitar. He is in band class as well....