Military Expectations
Many Americans plan to enlist in the military. The military attempts to enlist approximately 150,000 candidates each year. Although many enlist without truly understanding what's ahead. 
Before
Choosing to enlist in the military is typically a major life decision. Before enlisting, it is important to understand what joining the military entails.
Twenty-six-year-old active military member Aaron Walt explains why he decided to join the Army.
"For me personally, I originally wanted to join to get my college paid for, but I ended up reenlisting again just because I wanted to serve my country," Walt said. "As an active military personal, I feel it's important for me to show my patriotism by working with the Army."
Davis Jones, currently an Army recruitment officer, states the most common reason for enlisting is patriotism.
"To serve our country is one of the most patriotic things a person can do," Davis said. "Though, many young people decide to enlist in order to pay for college or other later life expenses."
Recruits should find out key information about their intended career. Also, they should learn about international news events because they have an impact on their possible assignment. They can also consult veterans and read accounts of missions that involved all the services. When enrolling, recruits should think about what they want to be. Coast Guard recruitment officer, Mallory Paul, says to talk to a recruitment officer.
"It's important to talk to your recruiter about any questions or concerns you may have about joining," Paul said, "I do suggest scheduling a meeting with your recruiter to find out what to suspect when joining."
The military will conduct a medical examination of each recruit, but if they've had any prior operations, broken bones, or serious illnesses, they may be granted a waiver. Mallory Paul, further explained.
"To make sure that new recruits are in good enough health to join the Coast Guard, a comprehensive medical examination is conducted," Paul said. "All recruits fill out a medical questionnaire and go through a physical examination that involves taking their height and weight, having their hearing and eyesight tested, having their urine and blood tested, and taking a drug and alcohol test. The physical examination for female candidates will take place in a private room with a female attendant with a drape or provided gown."
Prepare for the Armed Services Vocational Aptitude Battery, or ASVAB. Where a student lives and what he or she does in the military may be based on how well the recruit performs on this test.
"The ASVAB includes ten areas of testing: general science, arithmetic reasoning, word knowledge, paragraph comprehension, auto information, electronics information, mechanical comprehension, shop information, and assembling objects," Jones said. "The test difficulty varies throughout, so it's important to be prepared."
Walt said to be prepared to take the test.
"I don't really remember the test, but I do remember that the test varied from easy to more difficult as it continued," Walt said. "I wasn't as prepared as I should have been, so my results were subpar."
Jones explained the characteristics needed for the military.
"One of the defining characteristics of the military is good order and discipline. To make sure your past doesn't contain any occurrences that might disqualify you, a background check will be conducted on you," Jones said. "Criminal history is frequently grounds for exclusion. If you get arrested, let us know. The ability to trust is crucial for a military career to be successful."
The newly minted soldier, sailor, airman, or Marine frequently separates from family, friends, and home when they enlist. They will get professional and travel experiences that will influence how they view the world.
"I have multiple friends in the military who have been out of the country and have seen some of the eight wonders of the world," Paul said.
During: Basic
Training starts shortly after a person takes the oath of enlistment and gets the first taste of life as a soldier, airman, sailor, Marine, or Coast Guardsman.
Basic combat training or Army boot camp is where it all begins. Jones explained what to expect at boot camp,
"Boot camp is where the new recruitments start out," Jones said. "You can expect to do many military-style drills. There will be many pushups, squats, lunges, and more. You'll learn teamwork, discipline, how to properly handle a weapon, and how to march."
Wal said boot camp is draining.
"Army boot camp was very difficult on me physically and mentally," Walt said, "You have to be in the right mindset for this type of activity. It drained my energy, but in the end, I believe that it was all worth it."
The next step is specialized training in a field of work; alternatively, a person can attend Officer Candidate School to develop their Army leadership abilities. Participants will learn how to use a weapon, rappel, and march during basic training. They will also learn teamwork and discipline.
Advanced individual training will teach the abilities required to carry out a particular Army vocation, like artillery or engineering. A military member will receive practical training and field teaching to become an expert in that career field at their AIT school.
Officer Candidate School is a demanding 12-week curriculum to assess leadership capabilities on the cerebral, physical, and emotional levels. Only the Army requires prospective officers who wish to enroll in OCS to first join and complete basic combat training before starting officer training, which consists of two parts.
Phase One: Gaining knowledge of the fundamental leadership abilities as well as the mental and physical demands placed on commissioned officers.

Phase Two: During a rigorous 18-day training expedition, they'll put their leadership abilities to the test.
Jones further explained Officer Candidate School,
"Your commitment to excelling in the fundamental leadership qualities expected of a commissioned officer will be put to the test through physical and mental difficulties," Jones said. "You must successfully complete the Leadership Reaction Course, the Army Fitness Test, and the Combat Water Survival Test."
A recruit will receive an official commission as a U.S. soldier upon graduation. Second lieutenant, the first of the commissioned ranks, was the rank to which Walt was assigned.
Missions/Assignments/War
If a recruit joins the military, they must be prepared to go on missions.
A military operation is a state's or a non-state actor's coordinated use of military force in response to an evolving circumstance. These steps are part of a military strategy to tip the scales in the state or actor's favor. Combat-related or non-combat operations are both possible.
"Military operations are a concept and application of military science that involve organizing the activities for the anticipated maneuvering troops' supplies, services, instruction, and administrative tasks to enable them to enter, engage in, and leave combat," Jones said. "There are three types of military operations: peacetime, conflict, and war. To succeed in these circumstances, you will need to be organized and have the proper attitude."
Veterans claimed in overwhelming numbers that they "didn't think" and simply behaved while in conflict. Giving credit for whatever prior training they may have received. The vast majority of respondents stated that their training had adequately prepared them for combat duty.
After: The Positives
There are many benefits to joining the military. Military advantages are intangible traits like leadership, camaraderie, discipline, and determination. The military also has its rewards in the form of educational opportunities, access to medical and dental care, 30 days of paid vacation, and other advantages.
Leading others is something that the military teaches and develops. People gain the ability to take ownership of their activities, make wise judgments promptly, lead by example, comprehend and complete tasks that have been allocated to them, be dependable, develop the skills necessary to meet a variety of problems, and exercise discipline.
"Individuals who join the military have access to education and training that enables them to become technically and tactically proficient in a range of abilities and to receive technical training for a particular military occupational specialization," Jones said.
Personal development and positive emotional experiences, such as increased maturity, self-improvement, knowing oneself better, positive transformations following trauma or extremely stressful situations, and greater coping mechanisms, can result from military service.
The Negatives
Though there are still many negative side effects. After being in the military, many veterans are left with mental illnesses and disabilities that they hadn't had before. Walt elaborated on the trauma many soldiers tend to face.
"The emotions of battle tend to torment soldiers for a lifetime; they often yearn for vengeance in the raw, but they sometimes hope for a nobler justice; they experience pride and patriotism tinged with shame, guilt, treachery, and remorse," Walt said. "They are concerned about whether they have disgraced themselves, whether they love their combat comrades more than their wives or husbands, and whether they can be honest with the soldiers who will come after them."
One type of guilt veterans deal with is survivor guilt. If they live and their fellow soldiers don't, they feel guilty. Many veterans see themselves as if they are the "living dead" and that their very existence betrayed the dead.
The condition known as post-traumatic stress disorder (PTSD), also referred to as shell shock or combat stress, develops after a serious traumatic event or a life-threatening situation. After such an event, it's normal for your mind and body to be in shock, but when a soldier's nervous system gets "stuck," this normal response turns into PTSD. Veterans, particularly combat veterans, frequently suffer from this illness. Walt related an outcome a friend of his had.
"I know a few older guys who had recently gotten out of the military. They had no family and to be honest, not much of a life outside of the army," Walt said. "They were left homeless and struggling for money. I remember one of the guys was left with some sort of mental disorder and never got the proper treatment for it."
When asked what advice he'd give to future recruitments, Jones emphasized the need to be ready.
"Be prepared, joining the military can be a lifetime commitment with a lot of responsibility to go with it."
Leave a Comment
Your donation will support the student journalists of Logansport High School. Your contribution will allow us to purchase equipment and cover our annual website hosting costs.
About the Writer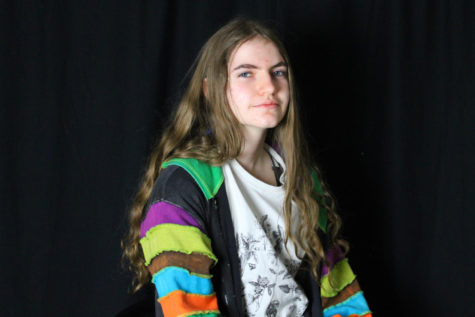 Maddison Sell, Reporter
Freshman Maddison Sell (all pronouns) is a reporter and a member of the class of 2026. She joined Magpie their freshman year (2022-23). One of his favorite...