Political Clubs of LHS
Political clubs are an important and integral part of schools. They allow students to express interest in common ideology and be with like-minded students.
Science teacher Tucker McCord, the sponsor of the Democrats and Leftists Club, explains why these clubs are important to schools.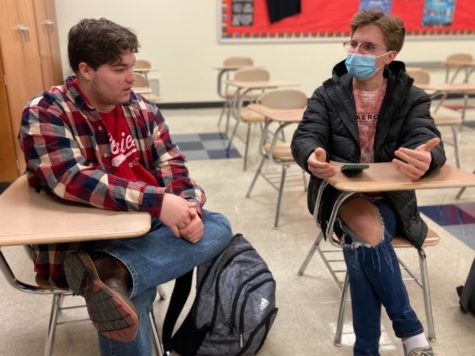 "I think they're incredibly important," McCord said, "Aside from some social interactions with close friends, I feel like most high schoolers don't see and discuss any political viewpoints other than what is said in their own households. In other words, students learn to parrot the phrases they hear, but they don't really engage with those ideas, scrutinize them, and come to their own conclusions. In my opinion, the more we can normalize discussing politics in a safe and controlled environment, the more we can encourage and facilitate future generations to be informed and active citizens."
COVID-19 has affected everybody's life and has also affected the Democrats and Leftists Club.
"COVID-19 has made it a little more difficult to meet in person, but thankfully, my classroom is large enough (lab space included) to handle students spreading out," McCord said, "I will still be encouraging students to wear masks in my classroom. I've found that the greatest impact of COVID-19 has actually been student interest and involvement in politics. When a topic that is (and should be) purely medical has become 'Republicans vs. Democrats,' it gets harder to speak out against misinformation without being involved and informed politically."
COVID has also become a political issue for many including these political clubs. A topic that has been talked about many times is the possibility of these two clubs meeting and discussing politics. President of the Young Republicans Club Casen Lake shows interest in this being a possibility.
"I would like to see the clubs come together and discuss. If they would be willing, that would be an option. I think it would even be cool to have a debate on topics on Berry broadcast or for the school," Lake said.
McCord also shows interest in these two clubs meeting.
"I think it would be important (and beneficial) for the two groups to join in discussion, as long as we set out a structure, purpose, and/or topic for the meeting. When groups disagree on policies, it can be easy for discussions to turn into baseless mudslinging, and I would like to avoid that," McCord said.
Recently, the Democrats and Leftists Club changed their name to the current name. Club sponsor Tucker McCord explains the reasoning behind the change.
"Several students came to me to discuss the idea of a Leftists of LHS club. Rather than start a new organization, we merged with the Young Democrats club, as many of the same ideals and goals are shared between the two groups. I put out a Google Form to survey our students' thoughts on a new name for our combined organization, and LHS Democrats and Leftists won the vote," McCord said.
These clubs are evolving and changing to address the changing ideals of their party. The Young Republicans club has been experiencing a drought of members.
"The club has been doing decent, and we're looking forward to continuing into next year, but ever since my first year in the club students haven't been as interested and numbers may continue to decrease in members, and there will be fewer club members in coming years unless more people join next year.
Leave a Comment
Your donation will support the student journalists of Logansport High School. Your contribution will allow us to purchase equipment and cover our annual website hosting costs.