Q&A With the 2023 Prom King and Queen
On April 24, the Logansport High School prom was held at the Logansport State Theatre. Seniors Gracie Kitchell and Jacob Patty won Prom Queen and King. The other participants in the running were Cassidy Cuppy, Amari Gittings, Alexsa Herrold, Finley Hettinger, Tristan Kitchel, Grayson Long, Luna Tafolla, and Nick Todd.
Questions:
Did you think you would make top five?
Patty: I definitely did not. When I was voting for the top five, I saw my name along with every other senior, and was like "oh wow," there's my name on that long list. Near the end of the day Friday I heard that a lot of people had voted for me, so that did kind of make me feel more confident to make it to top five.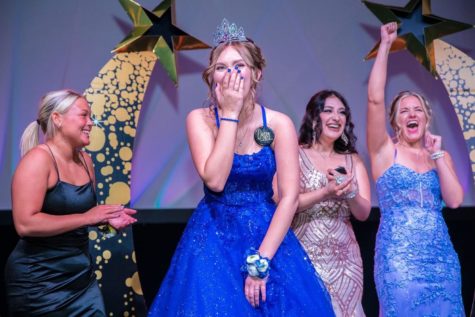 Kitchell: I had no clue I would be in the top five. Honestly, I was so nervous about it leading up to prom, because I secretly really wanted to be top five, but I knew whoever was in the top five deserved it. I had my suspicions, but I didn't want to get my hopes up.
Were you nervous or confident when going on stage?
Patty: I would say I was pretty confident. I would have been more nervous if I didn't know I was going to be called up, but because I did know I could somewhat brace myself for it. All the cheering when they first announced my name for top 5 also made me feel more confident and overjoyed.
Kitchell: I was a mix of both. I felt very confident with how I looked and my presence, but I was terrified of tripping up the stairs. In terms of winning, everyone who got called up for the candidates was so deserving, and I would have been happy if any of them received Queen. 
How did you feel when they announced you were the prom king/queen?
Patty: I was over the moon when they announced my name and it is still kind of surreal for me. I was so shocked that when they were placing the crown and pin on me I started shaking a little as I just couldn't believe it.
Kitchell: I was in total shock when they announced Queen. My mouth dropped and I remember looking out into the crowd and seeing my friends jump up. All of the girls on stage were so supportive, it was an immediate feeling of euphoria.
How was it to be paired with one another?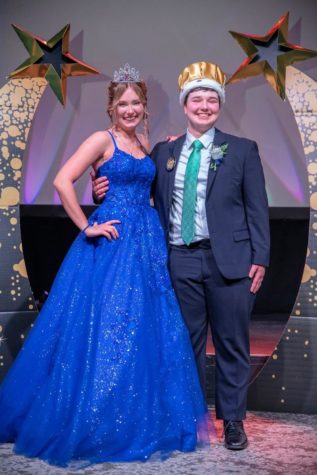 Patty: Gracie is one of my dearest friends, and is really the person who convinced me to get involved in swing choir as well as theater which I really have to thank her for. This is what makes it so awesome that we were prom king and queen. I remember on the way to prom we were talking about how it would be so amazing if we got king and queen, and then we did it. Gracie really deserved to be prom queen and I am so lucky I got to share the spotlight with her.
Kitchell: I am so happy to have been paired with Jacob Patty. He is one of my closest friends, and I am extremely proud of him. It was a plus to have him win as king so the king/queen dance wasn't as awkward as it could be.
What one word would you use to describe prom?
Patty: Thrilling. It was thrilling because I did not think I would be getting to five let alone king, so it was very exciting when it was announced.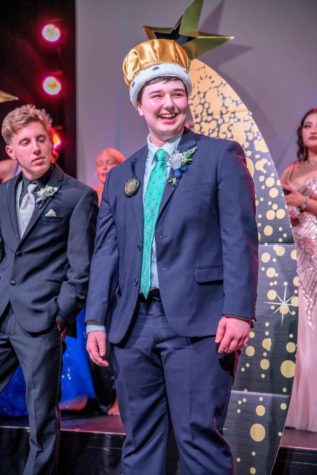 Kitchell: Electric. The vibes this year were great. It seemed as if everyone was having a great time, and people were actually dancing, which is always a concern with a group of teenagers. You just never know what type of vibe it's going to be until you get there, and Mrs. Lundy, her prom crew, and all the other teachers did an amazing job this year with keeping prom special and fun. 
What are you hoping for in the future?
Patty: I am hoping to be able to take the confidence I got when I was selected king with me to the future.
Kitchell: I hope next year is as much fun as it was this year for everyone, and that every student continues to stay safe and have a good time, to really just enjoy the moment. Prom was the first realization that my senior year is almost over, and I hope that next year, all of the seniors are a little more prepared than I was. Make the most out of these moments, because before you know it, high school will be almost over.
Leave a Comment
Your donation will support the student journalists of Logansport High School. Your contribution will allow us to purchase equipment and cover our annual website hosting costs.
About the Contributor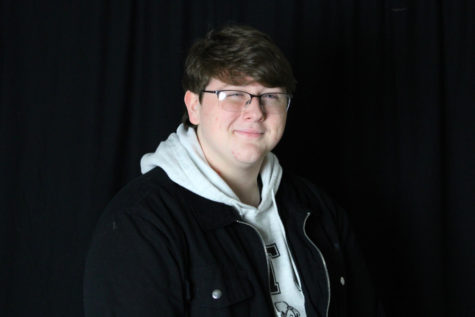 Payton Mucker, Social Media Editor
Junior Payton Mucker is in his second year of Magpie and is the Podcast Editor as well as a photographer within the staff. Previously, he was the Social...