Making Waves: Swim Team's Future Looks Bright with State and Regional Qualifiers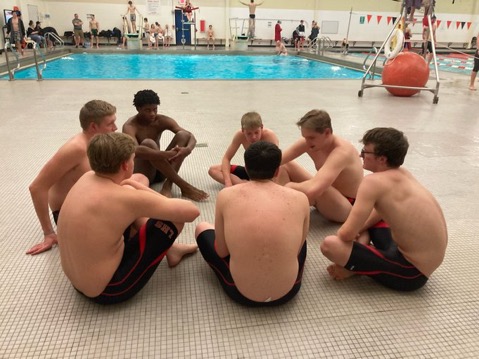 The LHS boys swim team made their mark at the IHSAA Warsaw Boys Swim Sectional, as the entire roster made improvements and advanced to the finals. For most of the Berries, this was their last meet of the season. However, sophomore Micah Rogers competed at the regional on Tuesday, and junior Jake Fincher will head to the IU Natatorium in Indianapolis on Friday to compete in the state meet.
At sectionals, Fincher placed first in the 100-yard butterfly (52.65) and fifth in the 50-yard freestyle (22.51). Senior Conner Shannon placed eighth in the 200-yard IM (2.16.74) and tenth in the 100-yard breaststroke (1.09.37). Sophomore Scott Loman placed seventh in the 500-yard freestyle (5.31.08). Rogers placed third in diving with 339.55 points. Sophomore Arian Castro-Martinez placed tenth in diving as well with 223.25 points. 
"It was interesting," head coach Mike Shannon said. "Comparing things to last year, we had four fewer swimmers this year but managed to score more points this year. Collectively, out of the seven swimmers that swam, they dropped 60 seconds. The divers also did very well."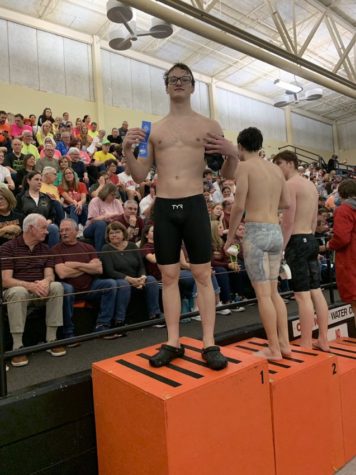 Fincher has had a standout year for the Berries. He previously broke the LHS school record in the 100-yard butterfly with a time of 53.02. During the sectional prelims, he re-broke that record with a time of 52.53.
"Jake is very hardworking, humble and coachable," Shannon said. "He is usually the first one to finish his set because of his time. His practices are more intense, and he does that. In order to get better, you have to push yourself. You are going to compete the way you practice. If you don't practice hard, you're not going to swim hard. Jake practices hard in order to be successful in the pool."
In addition to their difficult practices, Shannon implements the tapering process to improve his swimmers.
"We do it for conferences and sectionals," Shannon said. "We have the swimmers swim during the season tired. When we start the tapering process, we hit them with a lot of yardage. Then each day it goes down to the day before competition. For insists, two weeks before sectionals started, we hit them with almost five thousand yards. It was hard yards. Then, the day before sectionals, they maybe did 600. It requires a lot of pushing, hard work and rest."
Tapering plays a key role in Fincher's success. 
"I feel like tapering helps a lot," Fincher said. "It definitely helps me swim faster, but it's also something every swimmer does, so not doing it would only put me at a disadvantage while doing it would level out the playing field. It's also a lot of fun and helps me focus more specifically on certain races or strategies during practice."
Fincher is seeded 28 out of 32 in the 100-yard butterfly for the state meet. 
"Winning sectional is really cool," Fincher said, "It's not something I take lightly. It doesn't happen often at Logansport, and I am very proud to represent the team at state. The mindset going into Friday is just to do my best. A state championship might be out of the picture, but there is a tiny chance I could make it to finals. Advancing would be awesome, but I'm just happy I get the chance to swim another week."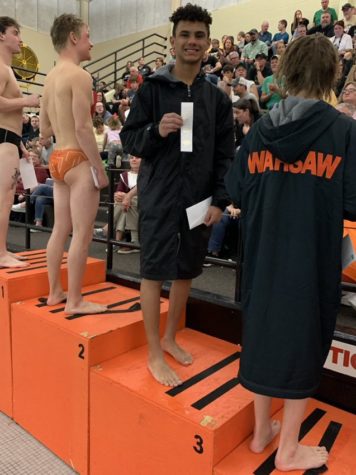 Fincher and Rogers are quite the iconic duo. 
"These two kids are just great kids," Shannon said. "They are fun to coach. If you put them together, they have the same qualities. When you ask them to do something, they say 'okay' and then go do it. Even if they can't do it, they will try to do it. Just to get somebody to try to do something is the first step." 
At diving regionals, Rogers completed eight dives and place 13th with 215 points. 
"I feel good about how I did at regionals," Rogers said. "At first, I was upset because I knew I could have done better. Although, I looked back and put into perspective that most of my competition was seniors, and I am only a sophomore. So, I am pretty proud of myself. "
Rogers missed the first part of his season due to an injury.

"At first, I didn't think it was possible to come back as good as I did," Rogers said. "I lack self-confidence due to being out for so long. I was completely surprised. With the help of my coaches and teammates, I was able to come back better than ever."
Reflecting on his personal journey to come back stronger, Rogers expressed the bittersweet realization that the seniors are soon to depart and will make significant changes to the team's dynamics.
"It still hasn't really sunk in that the senior won't be here next year," Rogers said. "Some of my good friends will be leaving. The team won't be the same. They taught me leadership, to be tough and to push through anything. My favorite memories are going out to dinner with the team after practice, or just hanging out in the locker room before and after practices."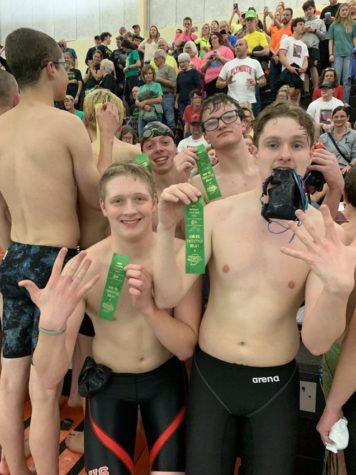 As underclassmen reminisce about their time with the seniors, Shannon also reflects on his own experiences with coaching his son, Conner, at the high school level. 
"It was rough to coach your son," Shannon said. "He would get so mad at me that he would walk home. Although, the experience of coaching your son was unique. I was very fortunate to be able to spend that time with Connor. It was emotional, to say the least. It was bittersweet to know that Saturday was the last time I will ever coach him. I will still give him tips as he will swim at Manchester. It's going to be weird to have him gone."
Despite seniors graduating, the Berries swim team has a bright future in years to come.
"The junior high swim team right now is awesome," Shannon said. "They are very good. We have some really talented eighth graders. My other son, Lucas, is a seventh grader, and his class is going to be good. Then, we have some sixth graders that will really surprise you. We even have really talented fifth graders."
Leave a Comment
Your donation will support the student journalists of Logansport High School. Your contribution will allow us to purchase equipment and cover our annual website hosting costs.
About the Contributor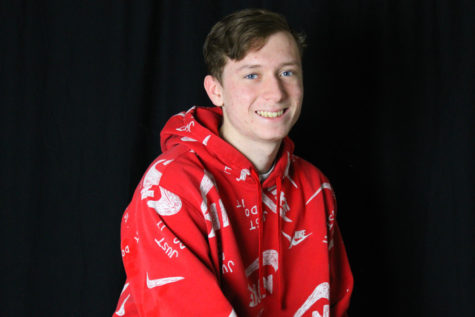 Payton Herr, Sports Section Editor
Senior Payton Herr is a reporter for Magpie and a member of the 2023 class at Logansport High School. He joined Magpie during the 2022-2023 school year....